SEO stands for Search Engine Optimization and includes a large number of techniques and strategies that aim to make a service or product appear in the top positions of search engine results. Therefore, Amazon SEO refers to the techniques that should be used to achieve good positioning in this marketplace.
This article is intended to be an SEO guide on Amazon that helps digital marketing professionals become familiar with Amazon's search engine, discovering what factors influence search results and how product rankings work on this popular marketplace.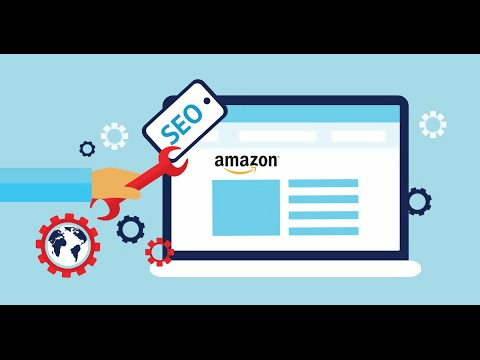 What is Amazon SEO?
Amazon SEO is the set of techniques aimed at optimizing the organic positioning of products in the Amazon marketplace. Thanks to a good SEO strategy, sellers can achieve a position among the first search results that Amazon throws after a query.
As important as registering a product on Amazon is to carry out an appropriate strategy in search of a good positioning. Attending to SEO recommendations on Amazon is essential because the position in which the product appears after the search will be decisive for the sale: only then will it be possible to stand out among the competitors and obtain a good position in the search results that gives visibility to the products.
Most SEO professionals familiar with Google know that the key is to optimize the content around one or more keywords. However, other factors are involved for SEO in Amazon, such as the number of sales that a given product has, which directly influences its positioning.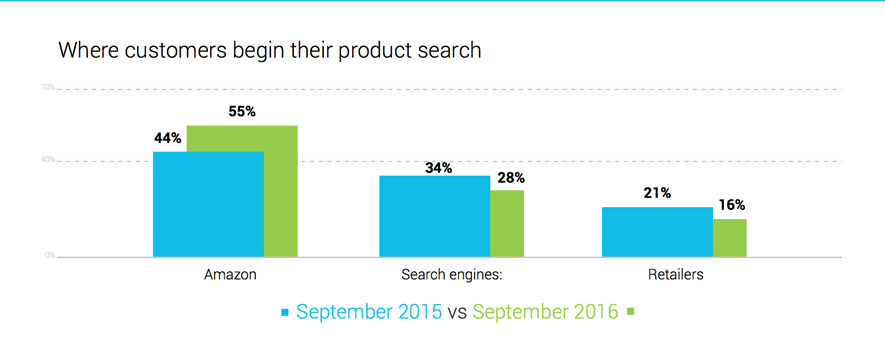 Differences between SEO on Google and SEO on Amazon
When we talk about SEO, the first thing that comes to mind is organic search engine optimization, mainly in Google. Google is a generalist search engine that offers information of any nature and whose mission is to organize information while Amazon's search engine organizes products and is only focused on sales and, therefore, positioning is achieved through different techniques: that a good positioning has been achieved in Google does not mean that the same results can be obtained on Amazon. Not with the same SEO strategy.
A study by digital marketing specialist BloomReach says that almost 60% of online consumers prefer to search for products through the e-commerce giant. While in the SEO for Google, certain aspects such as optimization of on-page content (presence of keywords, goals, originality, and quality of content) come into play, the authority of the domain through the number and quality of incoming links as well as many more factors (loading speed, mobile optimization, absence of indexing errors), SEO for Amazon requires other factors such as number of transactions, purchase possibilities per user, sales profits, etc.
Why is SEO optimization on Amazon important?
If you want to place your web project in the hands of search engines, SEO plays a fundamental role. However, competition is so high in some sectors that it is only possible to attract attention if appropriate optimization measures are carried out. Otherwise, competitors with large sales volumes will take advantage of you, reducing your chances of getting conversions.
Something similar happens when, as a trader, you offer your products on Amazon: if you give up the optimization of the ranking of the platform, you will be missing an effective opportunity to provide your offer with better visibility.
To achieve both short and long term success, Amazon SEO must have a prominent place among your marketing plans. If your product positioned in the first positions increases the probability that users will closely examine your offer and that they will finally buy your products.
It is vital to understand that the Amazon search algorithm works differently than any Google or Bing algorithm. If you are trying to analyze Amazon SEO from a web SEO point of view, you will have difficulties. That is because Amazon is primarily a buying platform, first and foremost.
If you have a product page on Amazon, you want customers to find it just as you would like your site to appear on the first page of search engine results (SERP) for your industry's keywords.
What's Amazon A9 Algorithm?
Amazon's search algorithm is known as A9, just because the company of the same name that manages SEO for the company, which is a subsidiary of Amazon, is called A9.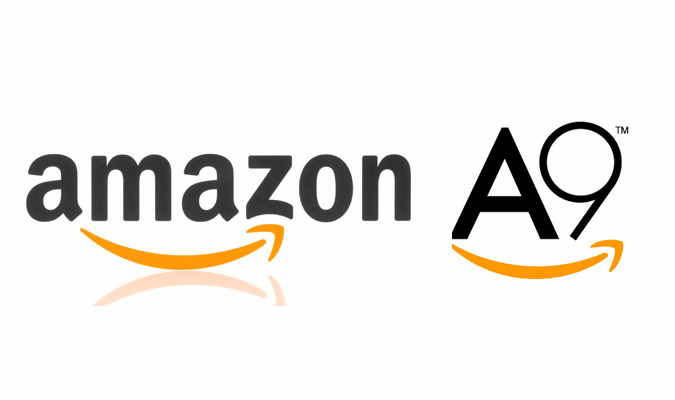 Amazon has developed its own algorithm that is in charge of choosing which products to display based on quality and the user's search intention.
Let's see the most important points that each of these categories includes: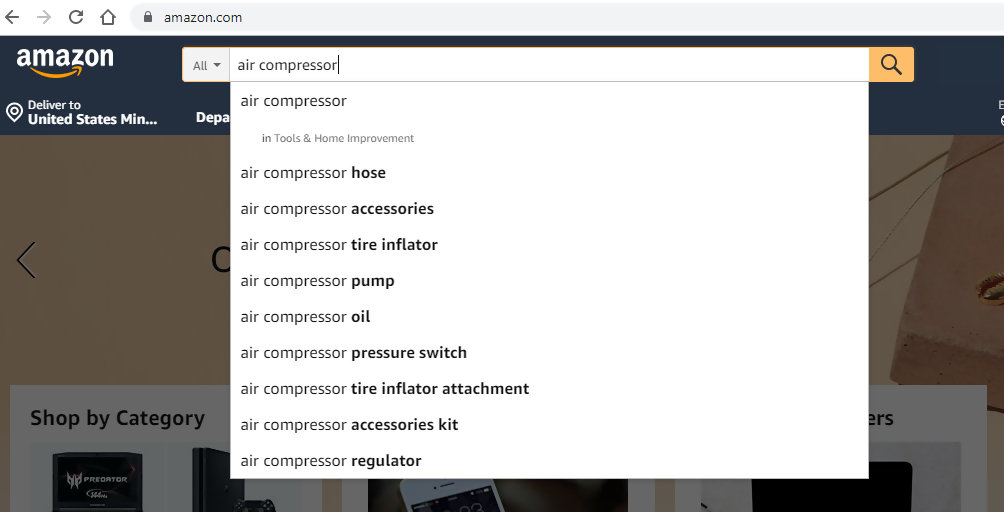 In the example we see how fine the recommendation system is that: "analyzing big data, search patterns and indexing a lot" offers air compressors.
Once the keywords have been entered, the system determines which results are interesting for the user in question and that is when the ranking factors come into play.
The more and better an item are sold on Amazon, the better it is positioned for a wider set of keywords.
Amazon A9 algorithm takes into account two types of factors:
· Relevance Factors
· Performance factors
If you optimize your Amazon product page for these two crucial ranking factors, you will end up converting and selling more on the site.
Factors influencing Amazon A9 search algorithm
The A9 algorithm is owned by Amazon and is dedicated to the management of its search engine. It does this based on data such as average score, customer traffic patterns, purchase history, search queries, most importantly, qualitative factors.
With all this data, the A9 algorithm is able to predict what a customer is most likely to buy based on their query in the Amazon search engine, which will make a product stand out among its competitors from Good ranking.
John Doppler, an independent author who has analyzed the Amazon algorithm in depth, says that, although the marketplace never reveals this data, it is possible to draw some conclusions about the operation of the algorithm, for example, several SEO researchers at Amazon have concluded that:
· Each item sale is counted as a point towards its inclusion in the list of the best selling products.
· Daily, the score achieved the previous day is divided by two and the result is added to the points achieved that day.
· For each category, Amazon ranks the products on the list based on the latest scores.
Amazon's top priority is to guide visitors towards products that they most likely buy. They push the best products to high positions to increase their exposure, allowing more sales.
How to get your product on the first page of amazon?
To optimize Amazon SEO, you can start by
· Optimizing organic positioning
· Utilizing paid search
· Improving conversion rate
Optimize o

rganic positioning
In organic terms, content is king, as always, and that is what you really need to focus on. To improve your content, you should start with titles, keywords and product description.
lTitles
To structure your title:
1. Do not abuse keywords, use 2-3 brand keywords and place them at the beginning of the title.
Try to optimize the readability of your title by varying the lengths for mobile devices and computers: for organic PC results, use about 115-144 characters; in paid ads, between 30 and 33 characters; for titles on mobile devices, between 55 and 63 characters.
lBackend Keywords
Keyword strategy is by far the most important tool to sell your product on Amazon. Backend Keywords are essentially hidden keywords. They are not visible to your customers but Amazon indexes them, so it's time to add your keywords. Its analog in Google would be the Meta tags, which help the search engine, know what your website is about.
There are five fields that you can complete with these keywords. Each line has a limit of 50 characters. If you exceed the limit, the keyword will not be indexed.
Here are five rules to keep in mind to successfully complete Amazon's back-end keyword fields
· Don't repeat any word
· Avoid quotes, as they will limit your overall character count.
· Do not include too many variations of the same word.
· Commas are ignored
· Include variations in spelling or synonyms
For keyword research, you can use the SellerMotor Keyword Research. It offers long-tail keywords based on Amazon suggestions. You can use it for both organic and paid keywords.
lProduct descriptions
The descriptions give your customers more information about your product, so this is your chance to go into detail and be very persuasive. Of course, you should also include your most important keywords here.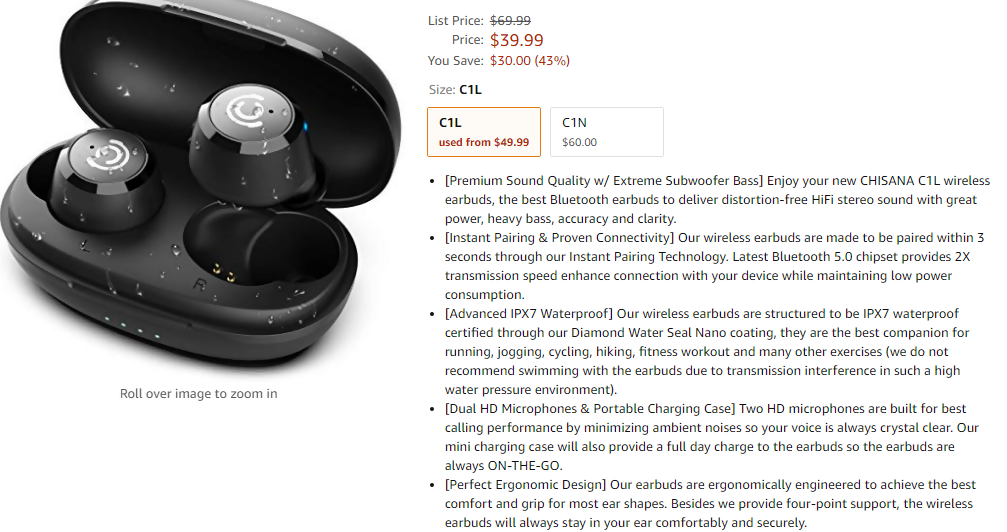 Make the text readable, natural and compelling from a sales-oriented point of view on Amazon. Inform your potential customers about the benefits of your product (not just the features) and include crucial information such as weight or dimensions. And check out your competition and make sure they don't include more complete information than you.
Utilize paid search
lAmazon PPC
This is the easiest way to increase your sales on Amazon. Not sure where to start? Start by creating manual PPC advertising campaigns to target your keywords, and then increase offers to improve exposure. Again, as in Google, posting ads for a short period of time will be worthwhile to also increase your organic ranking.

Creating a campaign is really simple:
· Enter the name of the campaign to monitor the results.
· Add your daily budget.
· Choose the dates on which you want your campaign to run.
· Finally, choose if you want Amazon to target your ads with your data or prefer to configure it manually.
Now is the time to set the keywords you want to target. Again, you have the option to do it manually or automatically through Amazon. If you've used the keyword search tool that we showed you before, it's time to use it again.
You should always let your campaigns run for at least a month to get the best possible information to sell and improve your Amazon product ranking. After those four weeks, review what works and what doesn't, and modify your campaigns accordingly.
Improve conversion rate
lCustomer feedback
85% of users trust online opinions as much as personal recommendations. Reviews are another factor that appears in the Amazon algorithm. Look at the correlation between Amazon's first search results and products with many opinions. The products that are located at the top usually have more and better reviews.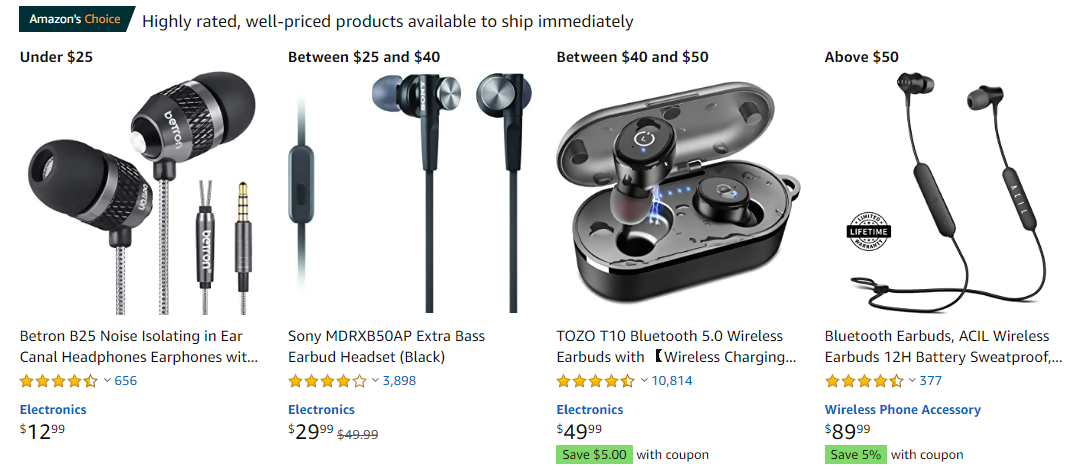 From this, we can conclude that having more reviews has an impact on the click rate and can generate more sales, which in turn has an impact on the overall ranking of your products.
If you want to get reviews from your customers, simply send them a reminder email after making the purchase, asking them to leave a positive comment about your product.
If Amazon's opinions are negative, see what people are complaining about and try to solve the problems they had with your product.
lCustomer Questions
They would be something like blog posts for your standard SEO content strategy. The best way to get them is to ask your customers what questions they have after buying your product (it is also a good way to try to get a review).
lImage size and quality
Amazon itself sets a recommended size of 1000 × 1000 pixels so that your buyer can Zoom the photos and view your product from all possible angles.
It includes high-quality images that meet these guidelines to ensure that your product lists are not relegated at the end of the search results. If you make these optimizations, your rankings in Amazon search results will improve.
lPrices
It goes without saying that the amount you charge for your product significantly affects your conversion rate and the amount of units you sell. Because Amazon values buyers above sellers, it will always push the lowest price to the top. If your price on Amazon is competitive compared to other sites that sell your products or similar, then your conversion rate will be positively affected.

One aspect that is sometimes overlooked is how your price compares to similar products in the same category on Amazon. If many products in the same category are cheaper than yours, Amazon is likely to predict that your product will not sell as much as the others.
If you charge too much in relation to other similar products, your search ranking will be damaged. Compare carefully what your competitors are doing and set the price properly and competitively.
If your price is higher, there should be a very clear reason why it is.
lDropout Rate
If someone finds your product and immediately leaves the page, Amazon will reduce your visibility. Make sure you don't cheat buyers in any way to avoid penalizing by Amazon.
lBounce Rate
Like the previous one, if someone lands on your product and quickly goes to look at another, Amazon will see you as unimportant to its buyers and penalize you.
Final Words
With this Amazon SEO guide you will learn how to improve your ranking within the Amazon search engine so as to increase your sales.
It can be useful for both people who want to start selling on Amazon and marketing agencies that want to offer Amazon SEO optimization services to their customers.
If you have doubts or something has not been clear, leave us a comment or contact us at support@sellermotor.com.