No one likes to get negative feedback in personal and professional life. Receiving negative feedback in eCommerce can be really frustrating, especially when the feedback is unfair and untruthful. When you get negative feedback on your Amazon seller account, it can affect your business sales and profits.

If you own a seller account on Amazon, sooner or later, you will receive a negative review on your account. Being an Amazon seller, you need to focus on Amazon feedback removal to maintain the credibility of your online business.
If you're receiving negative feedback on your sales, no worries, there are several ways in which you can rectify your situation and restore your business credibility & rating. Here's a guide on how to remove negative feedback on Amazon. So let's get started.
The Best 3 Ways for Amazon Feedback Removal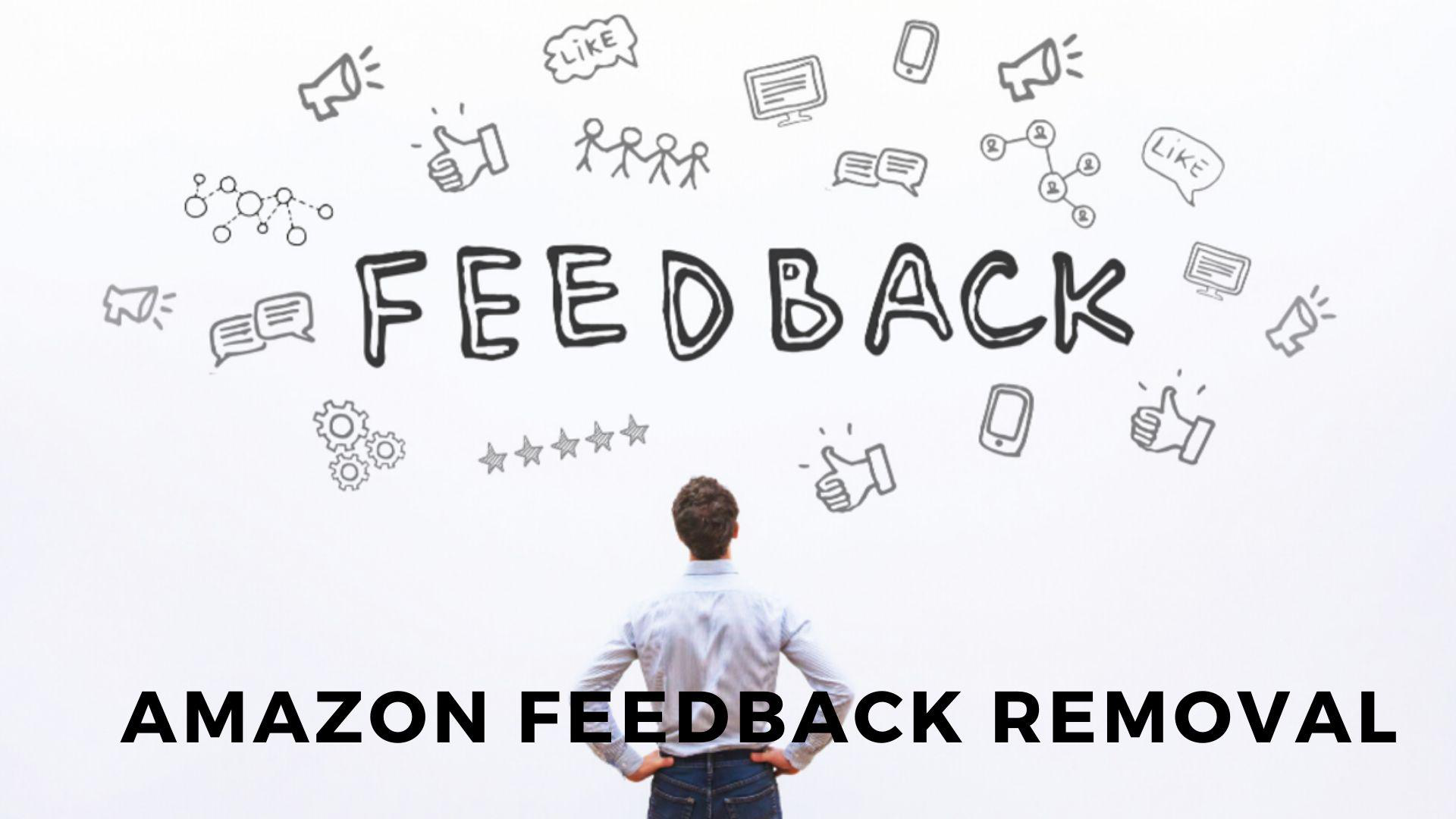 Here are the basics on how to remove negative feedback on Amazon. First of all, keep in mind that not all negative reviews can be deleted. Amazon removes negative comments only when the reviewer includes "personally identifiable info" and use "obscene language."
Also, transaction feed that includes a product review can be deleted effortlessly from your feedback profile (because as per Amazon's guidelines, these reviews should be inserted into the Product Review section).
Now that you know the basic rules, let's talk about how to remove feedback on Amazon.
1. Contact Amazon to Remove Feedback
If the feedback you've received is violating the guidelines of Amazon, then you can go for Amazon feedback removal request. Customers reviews that do not meet the basic guidelines of Amazon will be deleted by Amazon upon request, enabling the sellers to maintain high feedback ratings.
Here are rules of Amazon on what counts as ineligible feedback:
● Personal Information: Amazon inhibits reviews that contain the identification details of Amazon users.
● Promotional Content: Any links or comments about other websites or merchants are considered inappropriate.
● Product Reviews: Amazon enables users to leave their feedback on product pages, so there is no need to write reviews in seller feedback comments too. The client can talk about the service he received from the seller in the transaction feedback, but not about the product he ordered.
● Abusive and Obscene Language: The client can not leave abusive reviews.
Also, items that come under the FBA program (Fulfillment by Amazon) have even broader terms and conditions for negative feedback removal. Under this program, Amazon takes care of the product storage, order packing, order shipping, and client service of an FBA seller. Since the seller is not liable for these tasks, any negative feedback that relates to these duties will be deleted by Amazon.

Whereas, for non-FBA sellers, negative reviews on product condition, packing, dispatching, and delivery will not be deleted by Amazon as sellers are responsible for those duties.
If you're an FBA seller or you think the feedback you've received is not meeting the rules of Amazon, then you can submit an Amazon feedback removal request for negative reviews. To submit your removal request, consider the following instructions:
● Sign in to your Amazon Seller account.
● Once you log in, hit the Customers & Orders from the left-hand side.
● Insert the Order ID and click on the Next tab.
● Enter the order details and reason for your Amazon feedback removal request.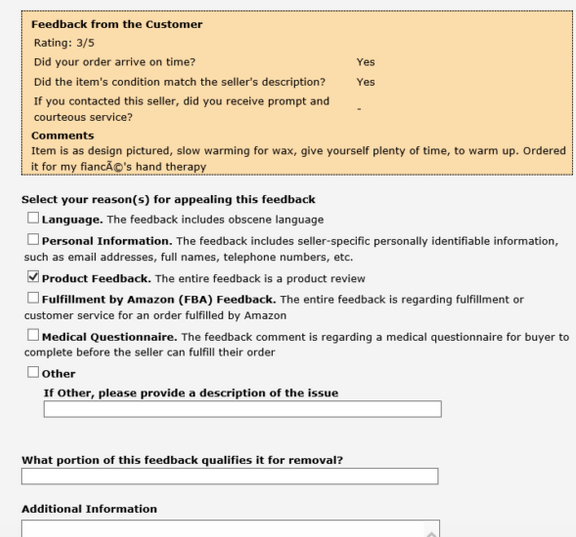 Once you submit the request, Amazon reviews the feedback and identify whether it should be deleted or not.

2. Reach Out to a Customer for Feedback Removal
If you find that the negative review you've received is not qualifying for removal by Amazon, then you should contact the buyer directly. Amazon provides customers with the power to remove their reviews on sellers' accounts.
However, you need to be within the Amazon's limits when asking clients to remove their negative reviews. That means you can not offer them a full refund in exchange for feedback removal. If you do this, you are clearly putting your seller account on risk as Amazon can suspend it.
Here are some Dos and Don'ts you need to keep in mind while approaching a buyer for removing the feedback:
● Understand the issue of the client and apologize for the inconvenience he has experienced.
● You can reach out to the customer within 60 days, so be timely with your response.
● Do not jump to feedback removal directly. First of all, apologize, give ideas for resolving the problem, and then ask for removing the feedback.
● Never offer a refund in exchange for removing a negative comment.
To contact a customer for negative feedback removal, you need to open the "Feedback Manager" page.

To respond, follow these steps:
● Scroll down the page and then hit the View Current Feedback option.
● Go to the comment you want to remove and then press the Resolve button. Now, you will be redirected to the Resolving Negative Feedback button.
● Press the yellow-colored Contact Customer button and pick the appropriate topic from the drop-down menu list.
● Enter your short, concise message.
● Now, use the Add Attachment button to insert your receipts and other supporting documents.
● Hit the "Send Email" button to send your message to the customer.
If the customer accepts your removal request and agrees to remove his negative comment, offer him the removal instructions. Here's how a customer can remove his review.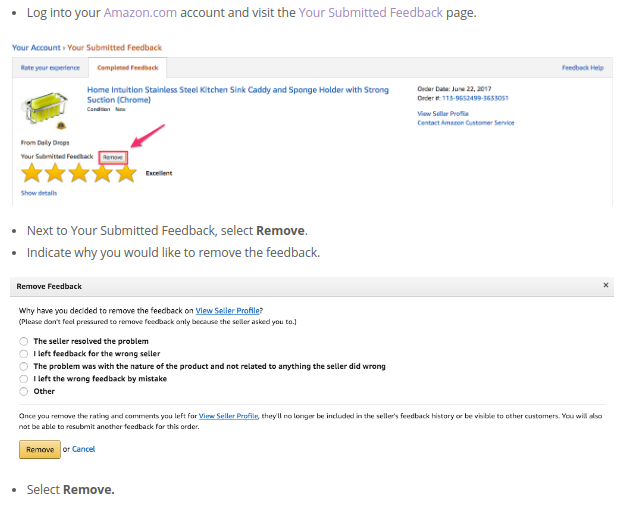 3. Leave a Response to Feedback on Amazon
If you fail in getting success through the steps mentioned above, the best idea is to write a direct response to the negative review on Amazon. By doing so, you can make the buyer realize that you are making efforts to resolve the issue.

To leave a response on negative feedback, visit the seller Feedback Manager page and take the following steps:

● Scroll the page and choose View Current Feedback.
● Pick the feedback you're looking to respond to, and hit the Respond button.
● Insert your response
● Hit the Submit button.
Conclusion
These are some simple ways that you can follow for successful Amazon feedback removal. Receiving negative feedback is a part of running a business on Amazon. Being a seller, the key is - not to let those negative reviews tarnish the image and credibility of your eCommerce business. By staying focused and taking actions on irrelevant customer feedback, sellers will have no issue thriving in the Amazon marketplace.