Being an Amazon seller, you know the importance of product listing. Basically, your product listing is your storefront. An Amazon listing is the product page for every item you sell on this eCommerce platform. It is crafted with the information (like product title, description, pictures, price, etc.) you insert when you list your products on Amazon.

Customers on Amazon use product listings to make a purchase. Consequently, getting the Amazon product listing right determines the success of your online FBA business.
If you're planning to sell on Amazon, the first thing you need to know is – how to create an Amazon listing. In this post, we will discuss the process of creating a product listing on Amazon. So, let's take a closer look.
What is the Role of Amazon Product Listing?
An Amazon listing performs multiple functions, but the two major ones are as follows:
● Makes your products more visible in Amazon searches
● Encourages customers to purchase your items
But remember, to achieve these objectives, it is essential to optimize your Amazon product listing. To know about Amazon product listing optimization, click here.
How to Create a Listing on Amazon?
While creating an Amazon product listing, you need to keep the following points in mind:
● If you're going to sell a new product on Amazon, you have to build a new listing on Amazon. It means you're the first seller to sell that particular item on the Amazon marketplace.
● When multiple sellers are selling the same item, then they share a common Amazon product listing. You do not have to build a new product listing.
Here are some steps that you need to consider to create an Amazon listing:
l Step 1: Sign in to your Seller Central account and open the dashboard.
l Step 2: Go to the "Inventory" option on the main menu.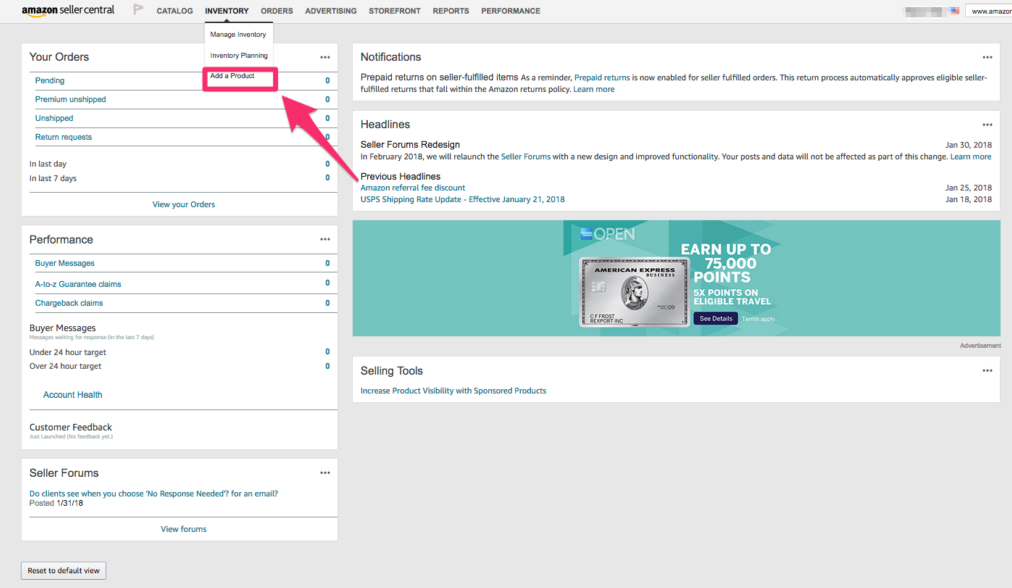 l Step 3: From the sub-menu list, click on "Add a Product."

l Step 4: Now, you will be redirected to a page where you can insert the product.
l Step 5: Here, you will have the option to either create your own product or pick an existing item. You can search from the catalog of Amazon or "Create a New Product Listing," if the product you sell is unique.
l Step 6: Select the category of your product and sub-categorize to mention the product that you sell.
l Step 7: Once you pick the relevant item category, you will be enabled to enter the information on the product listing.
l Step 8: Now, you will be asked to enter the title, description, images, price, and other details of your product.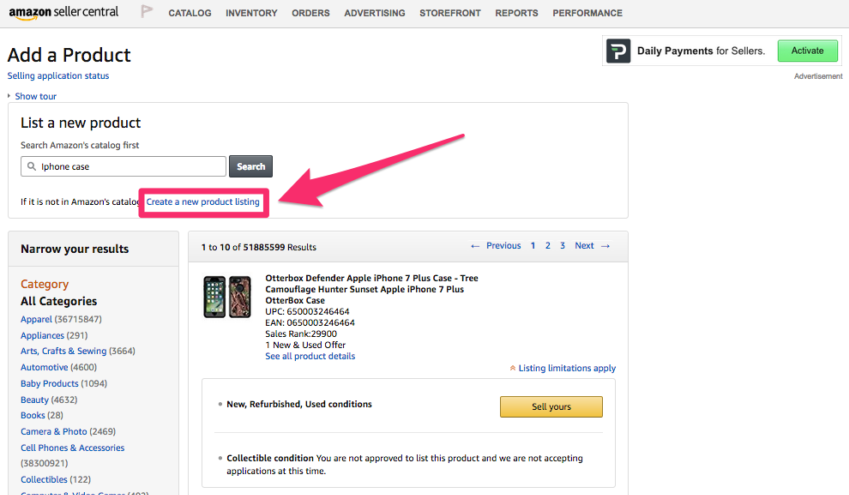 Note: Entering details of your product is the central part – it can make or break your product listing. The information you enter must be informative and engaging. Most importantly, the details must be convincing enough for the clients to purchase your item.

l Step 9: Here, you will have to enter details in each tab named Offer, Variations, Keywords, Description, Images, and others. In case, if a red warning appears on any of these tabs, that means you've skipped filling the critical details needed to make the product listing available on the Amazon marketplace.
Once you enter all the details successfully, you will be able to publish your listing.
If you still facing problems in publishing your Amazon product listing, you may contact the Seller Support team of Amazon.
What are the Essential Elements of Creating a Great Amazon Product Listing?
As a seller on Amazon, building a product listing can be a daunting job. You need to optimize your product listings with the right keywords to place them high in the Amazon search results. Simultaneously, you need to add captivating photos that can drive consumers to buy your products.
There are some basic elements to great Amazon product listings that drive more traffic and sales, and some of them include:
● SEO-Driven Keywords: The key here is to add only those keywords in your product listing that the customers are frequently searching for. Using relevant keywords is a great way to make your listing more visible and drive more consumers to your product.
For example, if you're selling a speaker, you need to use "Bluetooth" and "Bluetooth Speaker" into your product listings.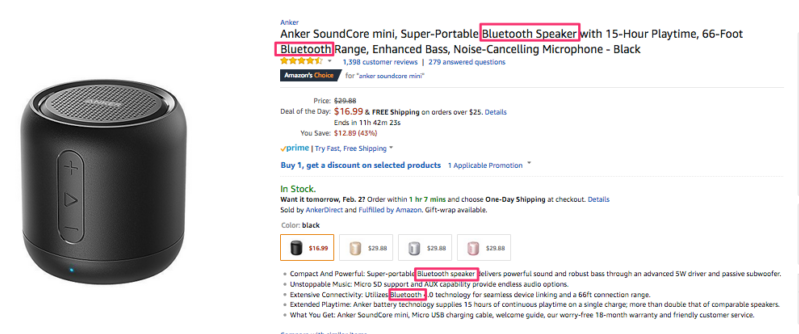 ● Detailed Product Descriptions: Your product description is another important aspect that can play a massive role in the purchasing decision of a buyer. Make sure your description is compelling enough that it can gain the trust of your visitors and convert them into customers.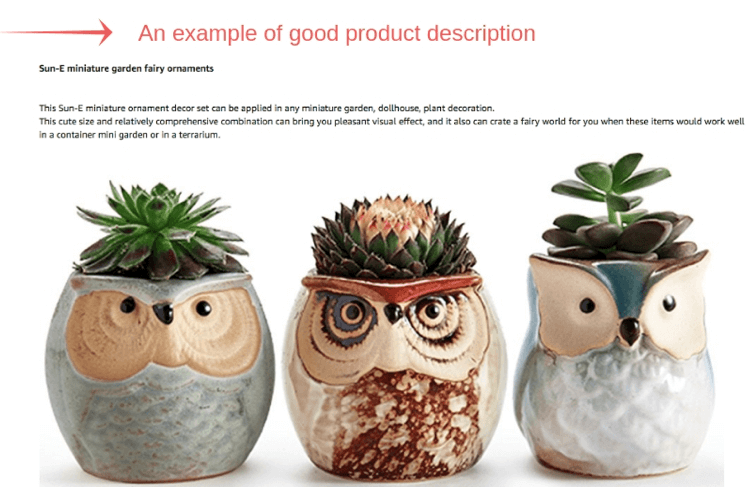 ● Engaging Visuals: The human brain gravitates towards visual content. As per studies, 90% of the details transmitted to our mind are visual, and we can process pictures 60,000 times faster as compared to text. It signifies that clear, high-quality product pictures can quickly convince your Amazon customers to make a purchase.
● Scannable Formatting: The formatting of your product listing can also impact the buyers' purchasing decisions. Visitors on Amazon are not going to read your whole product listing as there are too many items on the marketplace for consumers.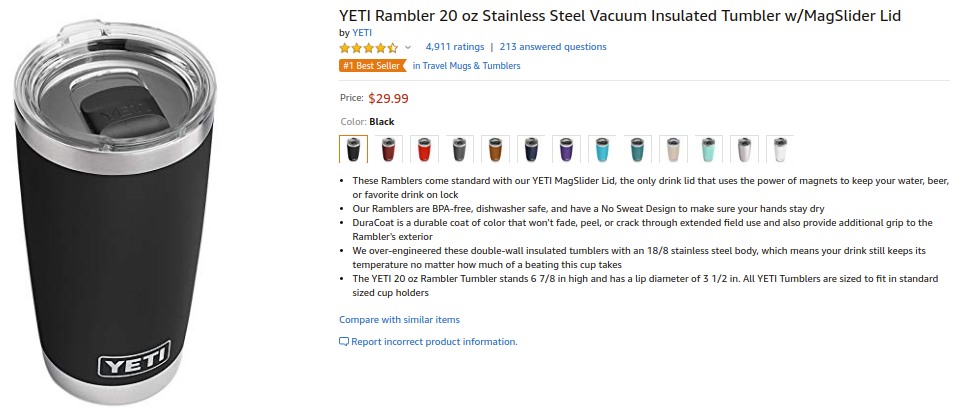 As you might know, the bullet points of every listing are easy for the eyes of buyers to scan. Knowing that clients are going to focus on these points, you need to display product details in a way that can highlight the features of your product the best.
For instance: Ensure to keep your bullet point concise and write the key product features in caps, etc. to make your formatting engaging.
If you want to create a great product listing that can drive your sales, then you need to focus on these basic yet essential details.
The Bottom Line
Hopefully, the information mentioned above in this post will help you in creating a great Amazon listing for your product. Do not forget that creating a listing on Amazon is a great opportunity – it is where your business shine and consumers realize that why they should prefer your products over others.
If no other merchants are selling your product, then you get to select the product information and images that you think can motivate customers to make a purchase. Also, remember to choose a product listing template that can represent your product the best.
By thinking thoroughly and combining all the details, you can craft an amazing Amazon product listing that is highly visible and appealing to visitors.