There's no doubt that Amazon is a popular selling platform, and the FBA (Fulfillment by Amazon) service makes it ideal for sellers to fulfill their orders efficiently. However, these benefits are not free; they come with some costs. From Amazon storage fees to fulfillment fees, sellers are liable to pay a lot of money for the convenience of FBA.
Many of such Amazon charges are non-avoidable, but there are some that you can get around. From so many such costs, one, in particular, is the long-term FBA storage fees that Amazon charges for holding stale inventory.
Amazon has made some changes in its policy on how and when the Amazon long-term storage fees are collected. Let's take a quick look at those changes and how you can ignore paying or lower those storage charges.
So, without any further delay, let's get started.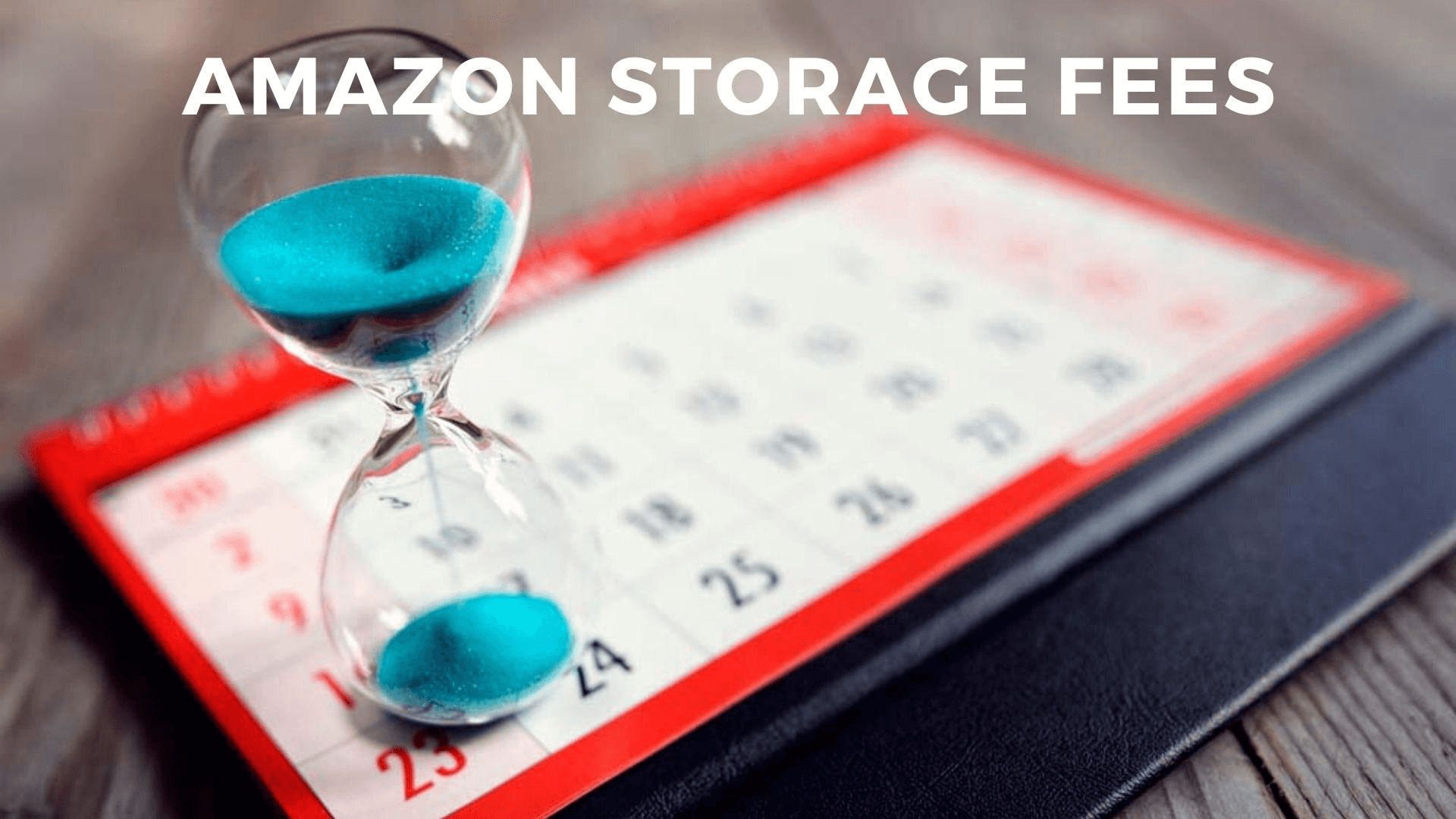 What are Amazon's Long-Term Storage Fees?
On 15th February 2019, Amazon revised how they charge for long-term FBA storage fees. Formerly, Amazon sellers/traders were charged long-term fees for products that remained on Amazon warehouse for more than six months. These expenses were measured and charged twice a year.
But in February 2019, Amazon changed its long-term Amazon FBA storage fees model in the following ways:
● Long-term Storage Fees
● Minimum Long-term Storage Fees
● Monthly Inventory Storage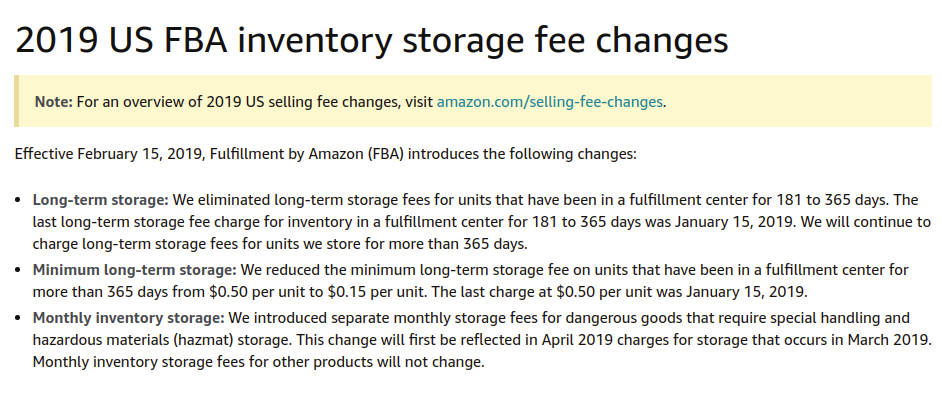 For more details on the changes made by Amazon FBA on inventory storage, click here.
Why Does Amazon Charge Long-Term FBA Storage Fees?
When your inventory remains unsold and overstocked at the warehouse of Amazon for long periods, Amazon loses valuable space that it could provide to other sellers with fast-selling items needed by consumers. Also called LTSF, the long-term storage fee helps in ensuring that Amazon continues to deliver exceptional service to all the sellers and offer high-quality goods to clients.
The cost of long-term storage space is not computed into the monthly storage fee. Therefore, Amazon has introduced LTSF. Products that sell before they have been in Fulfillment Centres for six months will not be charged storage fees. Also, unsold items for which sellers submit a removal request before the inventory assessment will not be charged FBA storage fees.
Tips to Lower or Avoid Amazon Storage Fees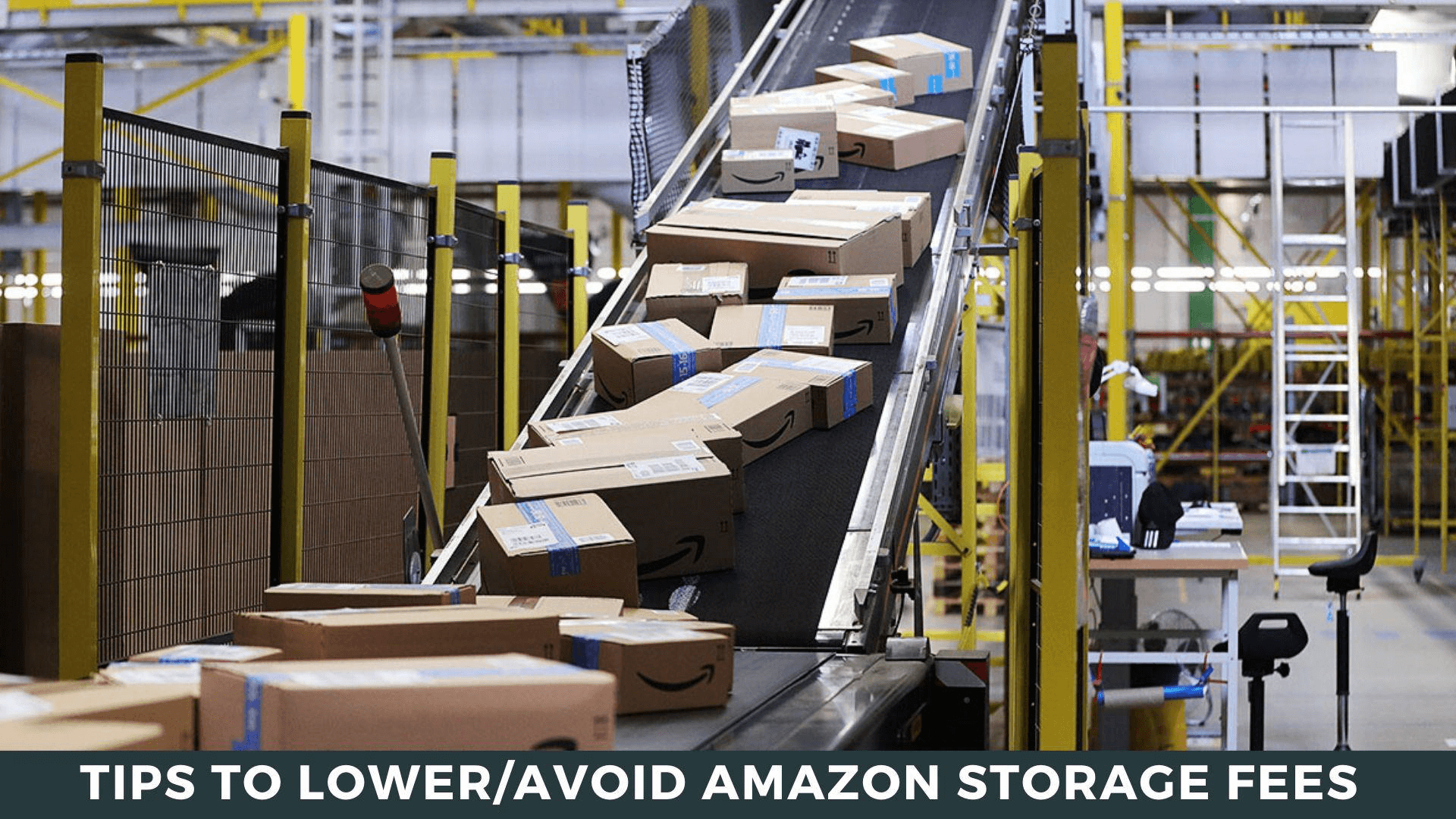 There are a couple of ways that you can follow to lower or avoid Amazon's long-term storage fees. The marketplace notifies you about the items eligible for LTSF in advance by sending an email so that you can make the necessary arrangements.

Here are some tips that can help you decrease or avoid Amazon FBA storage fees. So let's take a closer look.
1. Determine the At-Risk Inventory
When it comes to optimizing slow-moving products on Amazon, your first step should be to determine which items in your stock will be subject to LTSF on the upcoming inventory clean-up date, i.e., 15th of each month.
Amazon delivers reports to help determine inventory units that are getting close to incurring the LTSF. The method to check for storage fees is to visit the inventory dashboard under the Inventory tab on Amazon Seller Central. Here's how you can access LTSF:
● Sign in to your Seller Central account.
● Click on the Inventory tab on the homepage of your seller account and pick either Inventory Planning or Manage Inventory. If you select Manage Inventory, then you require to hit the link that says Inventory Dashboard below the menu bar.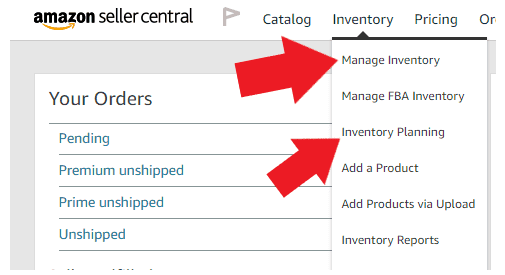 ● Once you open the Inventory Dashboard, check the FBA Inventory Age report, which will be available at the page bottom. Hit the "View Details" button to review the report.

● Through this report, you can determine how many days your stock has been at an FBA warehouse and what your estimated LTSF will be.
2. Send Only Fast-Moving Products
The best way to lower or avoid Amazon's long-term storage fees is – only send fast-selling items to the Amazon warehouse. To identify fast-moving products, you can conduct a data analysis of all your goods. Find out which items sell the quickest at which seasons and make a plan on when to send which product to your FBA centre.
3. Preset Auto Storage Fees Mode
This is another most preferred method to avoid being charged LTSF. Here, Amazon sellers can automate the removal of stock from Amazon's warehouse when it is eligible for FBA storage fees. To activate this setting, consider the following steps:
● Visit the Seller Panel
● Go to the Settings tab
● Click on the Fulfillment by Amazon (FBA) options
● Here, enable the Automated Long-Term Removal Setting
● Insert your address, email address, phone number, and other requested details
Making Amazon bundles is another simple yet effective way to lower your long-term storage fees. For instance, if you sell 5 items, you require to pay fulfillment charges on those 5 products. But if you put together those 5 products as a single bundle, then you're only liable to pay a storage fee for one item as the package will be considered a single product. Also, making bundles on Amazon is a cheap and straightforward process.
5. Price Your Products Appropriately
Last but not least – setting appropriate prices for your products can be a great idea to clear off your inventory quickly and cut down LTSF. To set the right price, compare the rates of your items to the costs of your competitors, and see if you can decrease your prices. This may lower your profits for a short period but can help you in the long run.
Conclusion
While no seller wants to pay Amazon storage fees, this expense can be prevented by considering the steps mentioned in this post. Whether you choose to sell overstocked products or liquidate Amazon FBA inventory from the FBA centre, your goal must be to make the best decision and get those items off the shelves of Amazon before they begin costing you money.
Over time managing your inventory can help you save some money on storage fees and increase your efficiency with forecasting your stock demand.
Overall, decreasing and avoiding Amazon's long-term storage fees can become more accessible with the practice you do.