If you're planning to launch an Amazon FBA business, you need to pay keen attention to a lot of details to be successful and on the top of your game. From so many factors, Amazon Product Research is something you cannot ignore if you don't want to fail.

Amazon FBA product research may sound like an easy job of searching for the right items on the market and selling them on Amazon. But in actual, the process of conducting product research is time-consuming, methodical, and a bit more complicated than most sellers expect. There are several tips, tricks, and tools that can help you in making the process easier and avoiding potential pitfalls.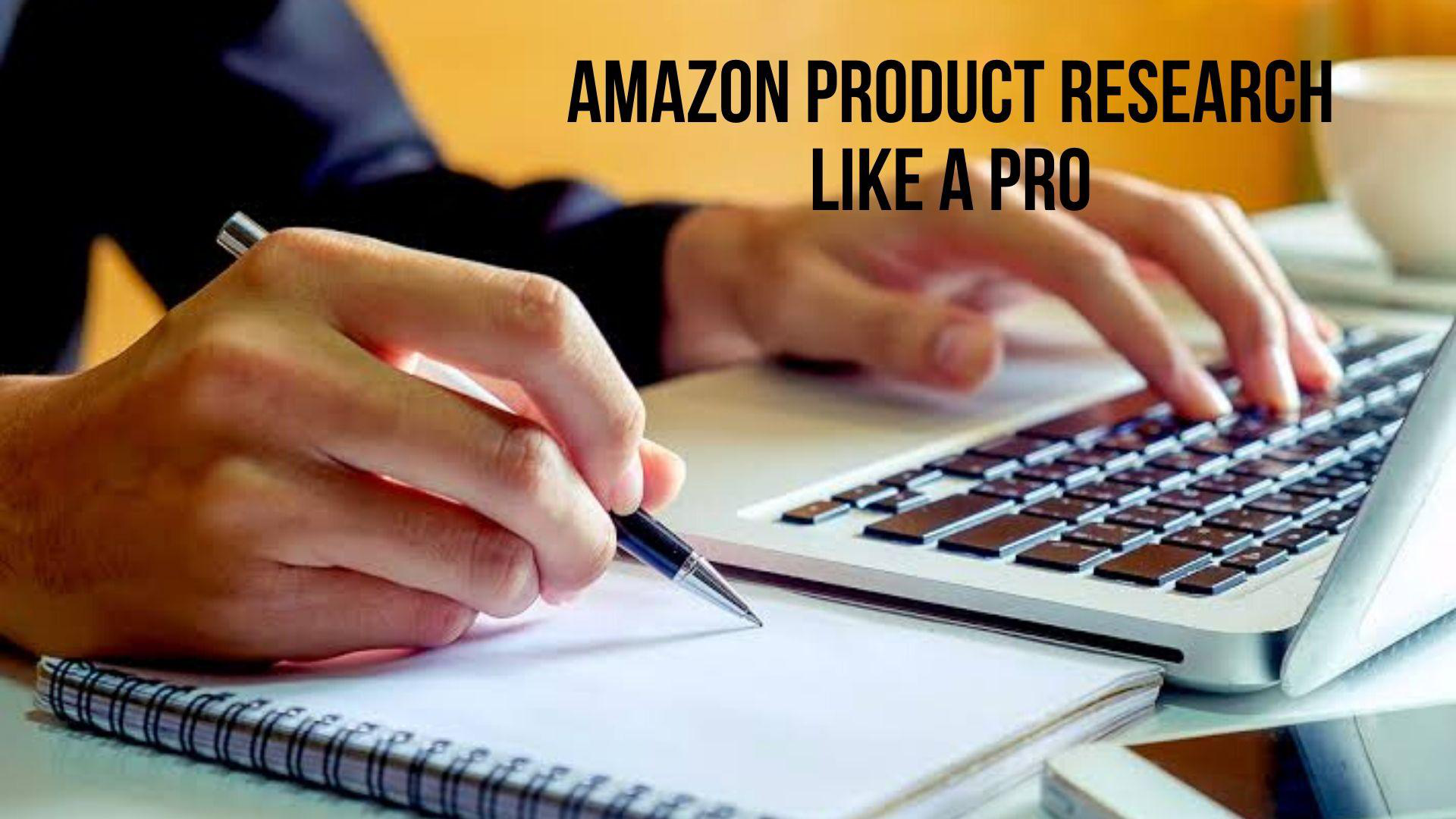 Want to choose the most profitable products to sell on Amazon? This post aims to provide you with essential Amazon product research tips and tricks to help you proceed in the right direction. So let's dive into the details.
What is Amazon Product Research?
Amazon FBA product research is all about determining the latest marketing trend to select winning and demanding products – items that can generate high sales and high revenue. The initial idea is to find quality goods that you can get for a low price and yet sell for competitive rates with a fantastic profit margin in return.
In simple words, you should go with products that have a great opportunity, high demand, low competition, low seasonality, and no legal issues. Choosing such items can help you make the most out of your FBA business.
A Quick Checklist of Amazon FBA Product Research Requirements
Here's a checklist of what is needed to come up with the most beneficial and productive product listings. This list can make your job a little easier.
● Items that make minimal ten sales/day
● Product rates that fall somewhere between $10 and $50
● Non-seasonal goods that can be sold year-round
● Similar items that feature best seller rank of minimal 5k in the significant category
● Lightweight and small products
● Easy to source products
● The items must not be fragile
● Products with no legal issues
● No trademarks or brand names linked to the product
These are some of the vital factors you need to keep in mind while choosing products to sell on Amazon.
How to Find Products to Sell on Amazon?
There are basically two main ways to find the most effective products to sell on Amazon, including:
● Manual Method
● Automated Method
1. Manual Method
For those who want to do it manually, here are simple steps that you can consider to follow. Let's take a look at them.
● Use Amazon to Research Your Target Market
It's possible that you already know what and who your target market is. By browsing the Best Sellers list of Amazon in your niche, you can make changes to your strategy as per the preferences and needs of your buyers. In fact, this is the first and foremost step you need to follow to find top-selling products.
You can search for goods depending on their categories and sub-categories. Have a quick check at Amazon's listings and identify what items can attract your target audience the most.
● Analyze Your Competitors
The other idea is to look at your competitors and analyze what actions they are taking to sell products you have in your listing. Amazon's Best Sellers page allows you to look through your top opponents. Here, you can find their product listing pages and official website (only if available). This information will give you an idea of what products are in high-demand and receiving positive customer feedback and good ratings.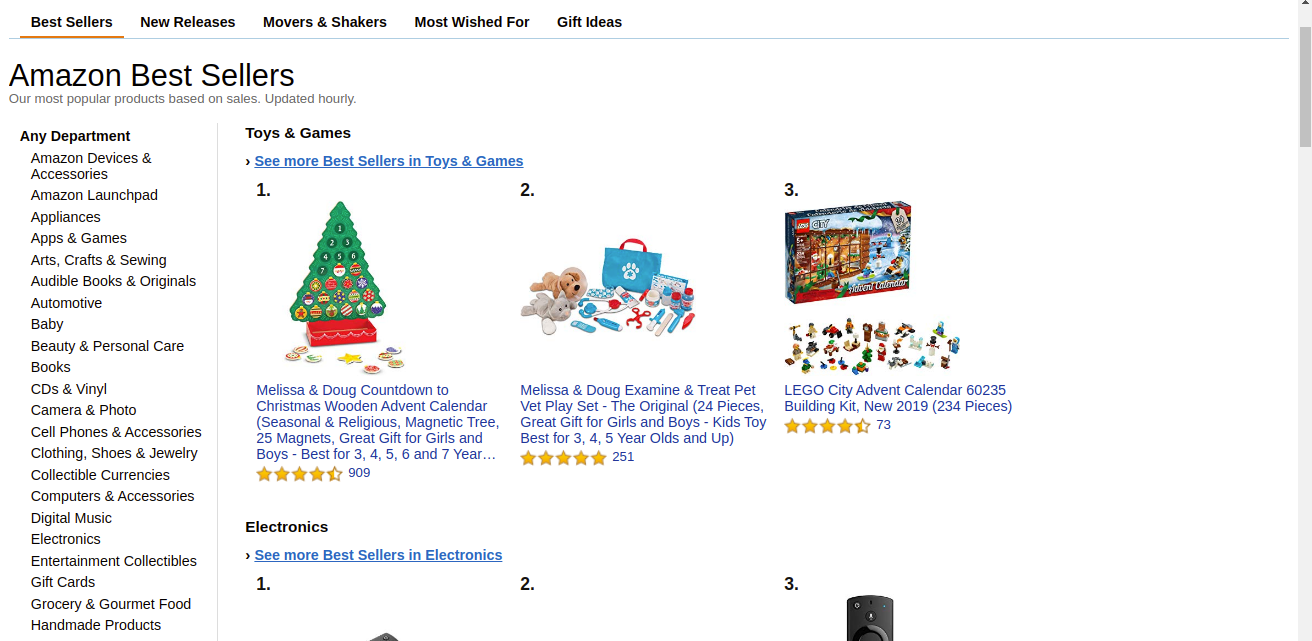 Besides, you can also spy on your opponents outside Amazon by entering appropriate keywords on different search engines and see if their results are showing up or not.
Also, you can consider purchasing products from your competitors to check their products' quality and kind of service they provide. Learn the best practices from their services and try to improve them while selling your products.
Note: When you look through a product page thoroughly, you will tend to find several new ideas. With a wide range of products available, it is quite easy to be carried away from your goal. That's why it is essential to be clear about what you're searching for.
2. Automated Method
The automated method is one of the best and quickest ways to conduct Amazon FBA product research. It can help you save both your money and time. Just imagine how frustrating and time-consuming it can be to scroll through the bestsellers lists, determining the product criteria & competition, checking the top-selling goods, and knowing the refund or return rate.
But the best part is that - you can get all of the above details in a single go by choosing the right Amazon product research tool like SellerMotor Product Scout. It is exclusively designed to give you an estimate of daily sales, number of reviews, sales volume, customer ratings, profit margin, review ratio, and other details for a specific category within a few clicks.
All you need to do is – sign in to your SellerMotor account if you have one; otherwise, create one here. Use the Product Scout feature to simplify your product research. For instance, if you choose the 'Home & Kitchen' category, here's what you will get in the results.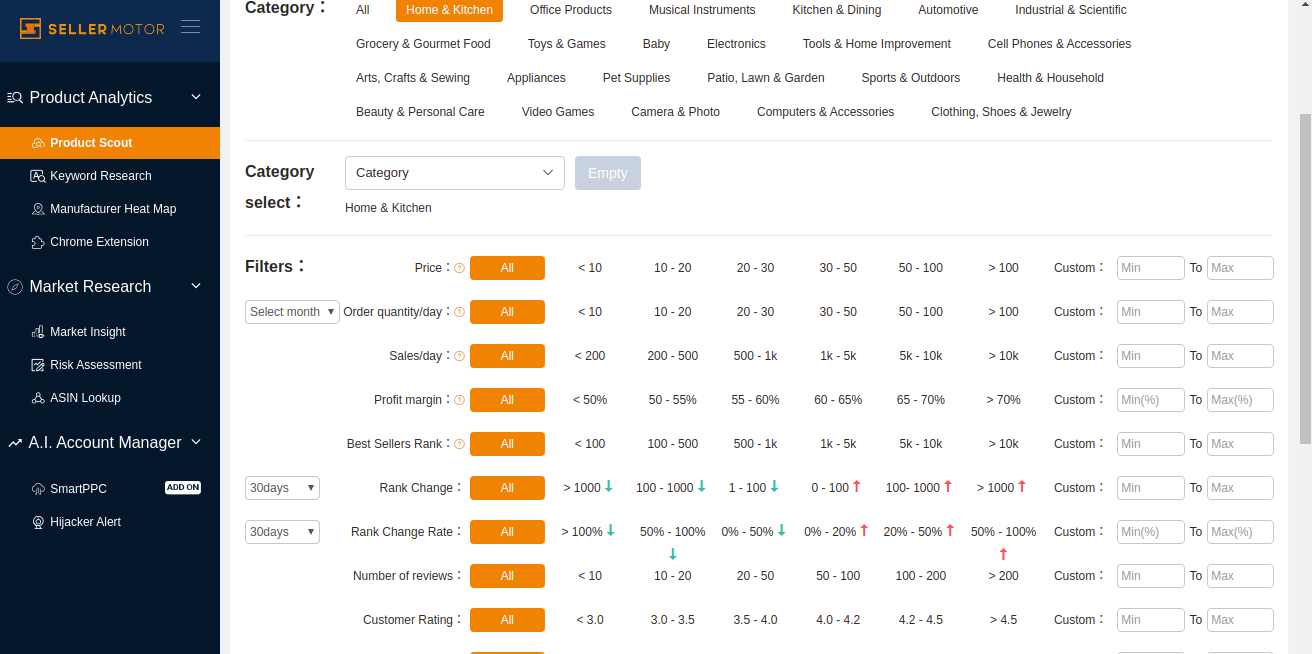 All in all, you can say that the automated method is an easy and quick way to perform product research in no time. It can help you in locating the right product from the biggest Amazon database without making extra efforts.
Conclusion
These are some of the critical Amazon product research strategies to identify the most profitable products to sell on Amazon. Follow these tips and tricks to make the right product listings and get ready to make the most out of your online Amazon business.
Do you have any advice for doing Amazon FBA product research? Let us know in the comment section below.