Being an Amazon seller, you cannot underestimate the importance of reviews. Receiving reviews on your products can make a direct impact on your online business sales as well as ranking. The more positive reviews the audience sees for your items, the more likely they are to purchase them. Therefore, you need to know how to get reviews on Amazon.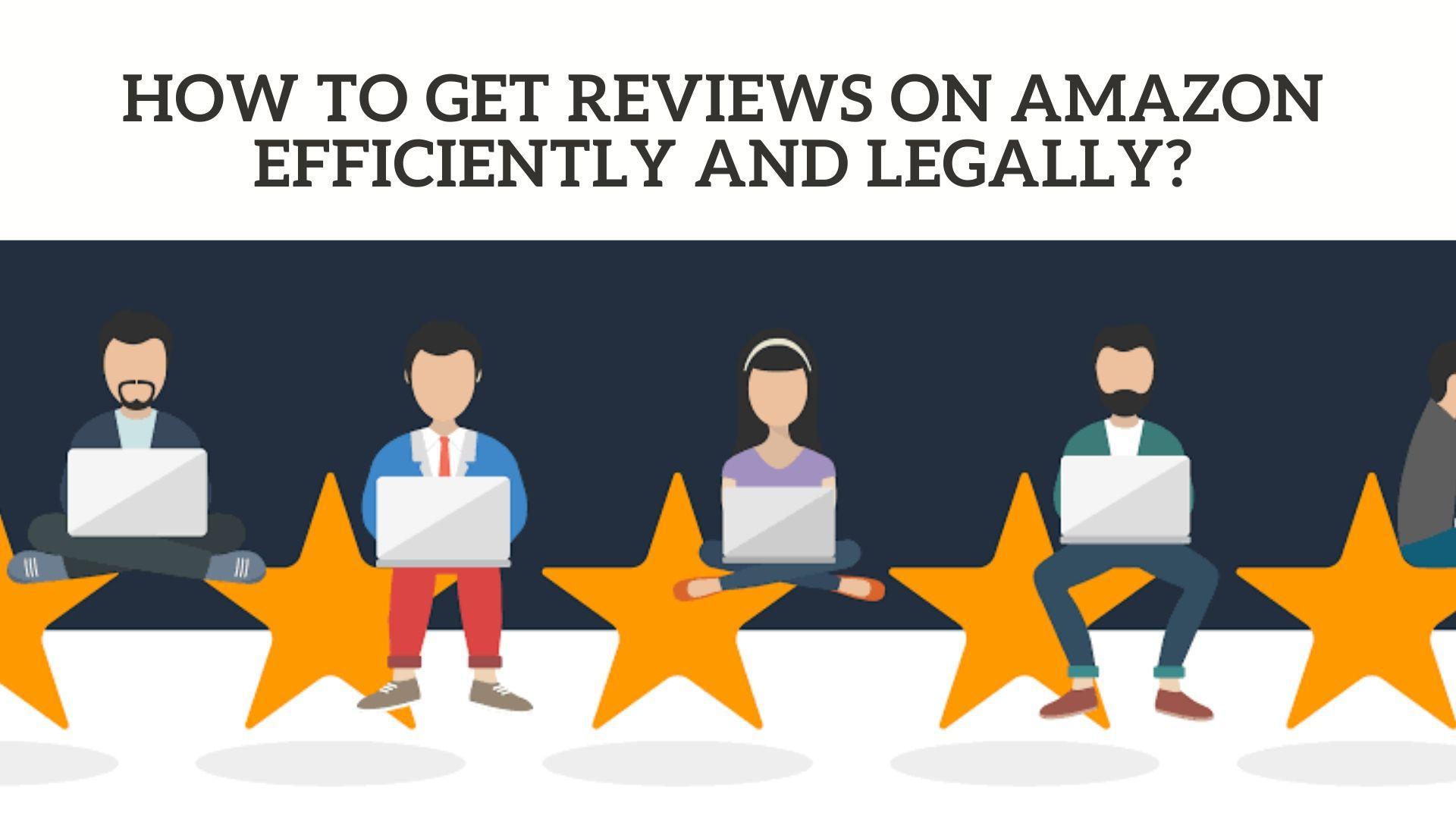 Here's a quick guide on getting Amazon feedback to help you collect reviews and boost your business sales. Let's take a closure look:
Is Buying Amazon Reviews Legal?
Even though the reviews are an essential part of eCommerce, it is not legal to purchase Amazon reviews. All eCommerce platforms are pretty serious about the integrity of feedback, and they are working to remove fake reviews. If you try to buy Amazon reviews, your seller account may be sued or closed. To keep your Amazon business running, you need to keep the following conditions in mind:
● Don't buy or provide coupons or incentives directly in exchange for feedback
● Do ask for honest reviews but not for positive feedback directly
● Avoid leaving reviews on your as well as your opponents' products
● Don't ask a customer to remove or edit his or her negative review
● Don't only ask for feedback from clients who had a positive experience with your products
Top 4 Ways to Get Amazon Verified Reviews Legally & Fast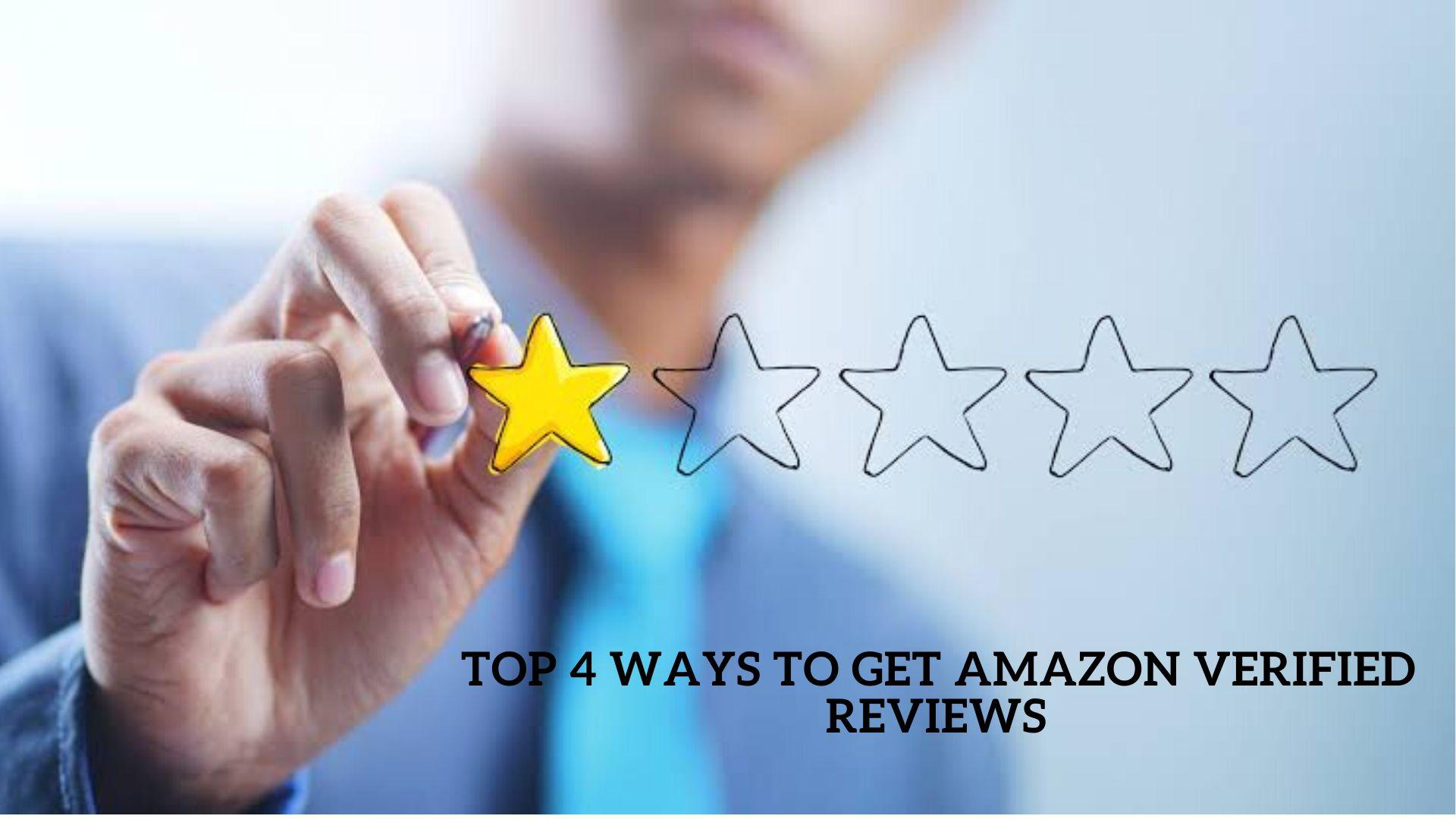 As Amazon doesn't allow incentivized reviews, getting reviews on Amazon and making your business success needs a little attention on planning and monitoring. To start with the process, first, you need to offer high-quality items to receive positive Amazon reviews. Before expecting your customers to leave reviews, ask yourself some questions, such as:
● Are your products worth it?
● Would people recommend your products to others?
If your answer is NO, then expecting visitors to leave positive or five-star feedback on your products means you are asking them to lie. Thus, before assuming to get positive reviews, make sure you're selling out premium-quality items.
With this in mind, now let's go through some of the best and most effective ways to get Amazon reviews legally.
1. Build a Mailing List
Another simple method to receive product feedback is - sending after-sales emails. Creating an email list takes time and effort, but once you gather email addresses using your product listing, you are all set to market your products. It is completely fine to send an Amazon feedback request and email to your consumers to leave reviews for your products. But, remember to send the email after a specific time following an order. One major thing you need to keep in your mind is – try not to sound outright, annoying, or pushy in your mails.
2. Give a Little Push to Sales
It is proven that Amazon feedback influences sales, and high sale rates bring you more reviews. You may have the most useful, helpful, and exciting items, but you still have to make sure that the audience knows about them. If they don't know about your products, then how can you suppose them to leave feedback. The idea is to give a little push to your sales to receive reviews. For this, you need to promote your products using different platforms like social media channels and Amazon PPC.
3. Use Amazon's Feedback System
Amazon automatically sends consumers an Amazon feedback request email after the successful delivery of the order. You can alter or customize this request in the Amazon Seller Central dashboard to motivate your buyers to leave reviews. But do not forget to follow the terms and conditions of Amazon. Avoid using text, for example, "Thanks for the purchase. If you're happy with our products, please consider leaving a nice review" or "If you liked our items, please give five-star ratings."
Instead of using such lines, encourage your clients to leave reviews using phrases like, "Please share your opinion, it will help us to improve our products" or "We appreciate/value your insight." Never ask for giving positive reviews directly. Let the quality of your products speak for themselves.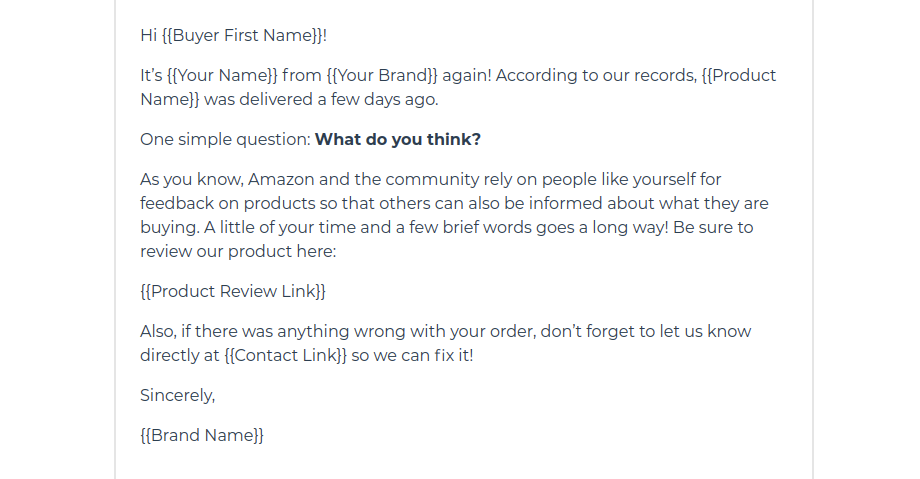 Now that you know emails can make a huge difference in getting reviews, why not take advantage of it. Simply choose an email template, i.e., Amazon Feedback Request Template, customize it based on your product, and send it to your prospective buyers. Basically, it's a 3-in-1 email template that can help customers to view products, write reviews, and give feedback.
4. Take Help from Amazon Review Services
The battle of collecting early feedback for new products is big trouble for people who have a seller account on Amazon. When products have no reviews, people are much less likely to buy them. This is where Amazon Vine and Amazon Early Reviewer Program come into play.
Amazon has introduced an Early Reviewer Program to help sellers collect reviews for their new items. Simultaneously, Amazon takes control of this program by reaching random customers of the participating products and ask them to leave a review.
On the other hand, Amazon Vine is a quick method to add feedback to a product's listing. Many sellers consider participating in the Amazon Vine program before launching their new products so that by the time products are made available to clients to buy; there is already feedback included in the listings. One thing you need to do as a successful seller is – be open to both positive and negative reviews. Overall, the honest feedback procedure is a part of your success.
Conclusion
Hopefully, the information mentioned in this post will help you in understanding how to get reviews on amazon legally. Follow the tips mentioned above, start getting positive reviews for your products and motivate more and more visitors to purchase your items.
Besides, remember that tracking Amazon feedback is as necessary as receiving reviews. Staying active about negative feedback and low ratings on your products on Amazon can help you in increasing the response time to clients' complaints and resolving issues immediately, resulting in improved business sales. All in all, follow an effective strategy to get reviews for your products and make your business success.