It's no surprise – keyword research is one of the essential aspects of starting and optimizing a thriving business on Amazon. Being an Amazon seller, you need to incorporate the appropriate keywords into your product listings to make it easy for customers to find your products online.

When it comes to finding relevant Amazon product keywords, several strategies come into play. From so many tactics available online, one that you can't afford to avoid is – reverse ASIN lookup.
You might have heard this term, but do you know how it works. In this post, we will talk about ASIN lookup in detail. But before diving into in-depth information, let's proceed with the basics.
What is ASIN?
Acronym to Amazon Standard Identification Number, ASIN is a 10 digit alphanumeric identifier assigned by the Amazon and its partners to each product that is available on Amazon for sale. ASIN number makes it easy for Amazon to identify and categorize millions of items in its catalog quickly and efficiently.
ASIN code can also be used to search for a specific item on Amazon's database quickly instead of browsing through millions of products one at a time.
How to Get ASIN Number of an Amazon Product?
You can find a product's ASIN number by following two different ways, such as:
You can get the ASIN code of a product in the description of that particular item. To do so, scroll down the product page, and you will see the ASIN number in the description at the end of the page.



2. The second way is to check out the URL of that product. Amazon includes the ASIN in each of its URLs, just after the product name.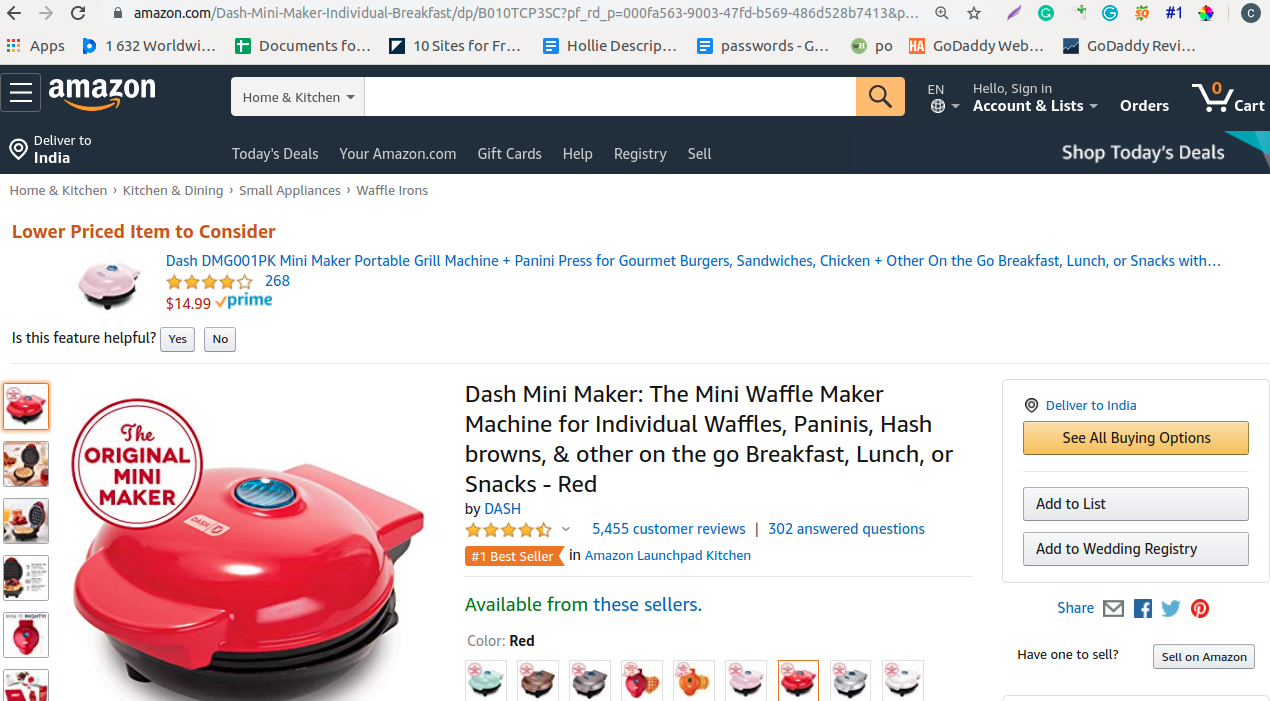 Why Do You Need an Amazon ASIN Number?
Identifying your ASIN number is the first thing you need to do if you're thinking of becoming an Amazon seller. Having an ASIN code is essential to ensure that the products you're planning to sell on Amazon can be found easily by consumers.
But remember, to identify your ASIN, firstly, you need to have one. If you don't have an Amazon ASIN, no worries. You can get an ASIN immediately after Amazon approves your product to sell on Amazon. You can receive your ASIN on your product page or inventory page on Amazon Seller Central.
Once you identify your ASIN by Amazon, you are eligible to move further to create your product listings.
What is Reverse ASIN Lookup?
The reverse ASIN lookup is a popular online strategy that enables you to take a look at your competitors' product listings, analyze them properly, and note down top-performing keywords.
Once you make a list of your competitors' keywords, compare it with your own keyword research list. If you find a lot of similar keywords, it means you're on the right track. On the other hand, if you notice that lots of keywords are missed out on your list, it's time to step back and rework on your product listing..
Amazon Reverse ASIN Lookup: The Right Method
An ideal approach is to simply select a reverse ASIN tool, enter the ASIN code of your competitor's product, and press enter. You will get all the keywords they are using along with search volume, CPC (cost-per-click), and more.
To perform so, all you need is a reliable reverse ASIN lookup tool. But, as you know, there are several ASIN lookup tools on the market; now, the question is – which online tool should you use?
From so many tools available online, SellerMotor ASIN Lookup can be your ideal pick. You can use this tool to perform a reverse ASIN lookup. The good news is – SellerMotor is one of the full-suite Amazon tools helping Amazon sellers succeed in this competitive marketplace.
Steps to Perform a Reverse ASIN Lookup using SellerMotor
Performing ASIN lookup using this tool is straightforward. In fact, SellerMotor allows you to conduct keyword research by taking a few simple steps. So, let's take a look at how does it work:
1. Register to Make an Account
First of all, you need to sign up to perform keyword research. To sign up, simply visit here and click on the 'TRY NOW' button. Now, hit 'Don't have an account' option below the Login tab.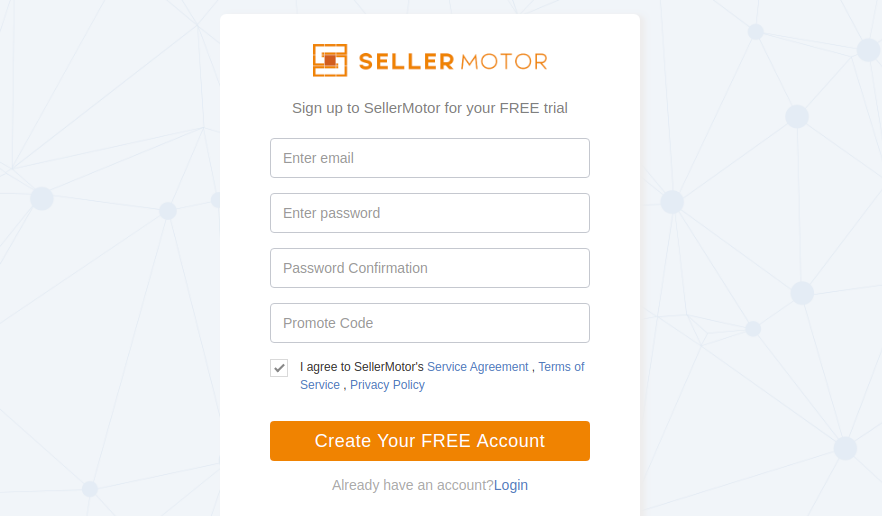 After this, you will be asked to enter details like email address, password, and promote code to create an account. Enter these details, check the privacy policy, and press the 'Create Your Free Account' tab.
Now, you are registered with the tool and eligible to give a try to its FREE version for a particular period.
2. Put the ASIN Code into the Search Bar
In this step, open the SellerMotor ASIN Lookup tool, add the ASIN of your opponent's product into the search tab, and hit the Search button.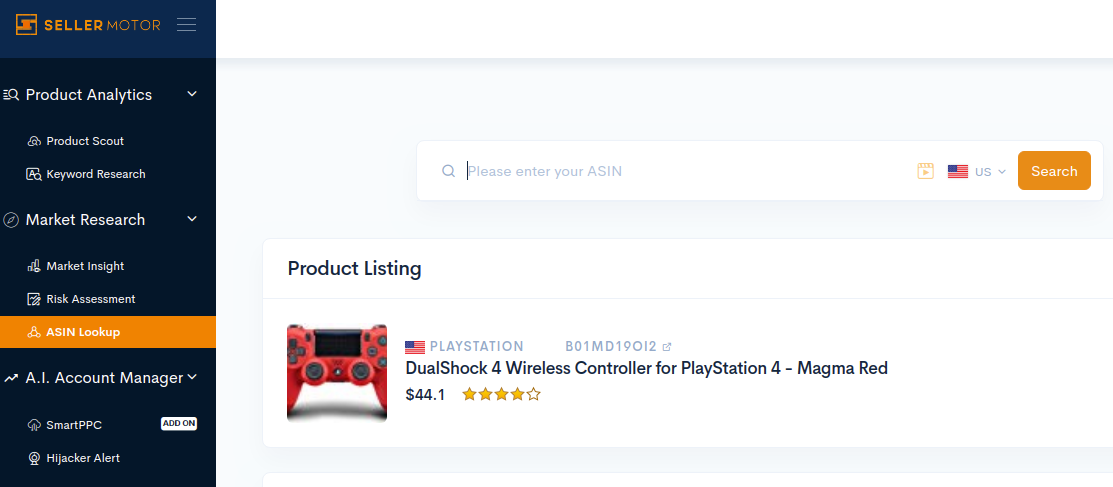 3. Note Down Top-Performing Keywords
After hitting enter, you will be provided with keywords results, which include high volume search terms, search volume, traffic, organic search rank, and market insight report.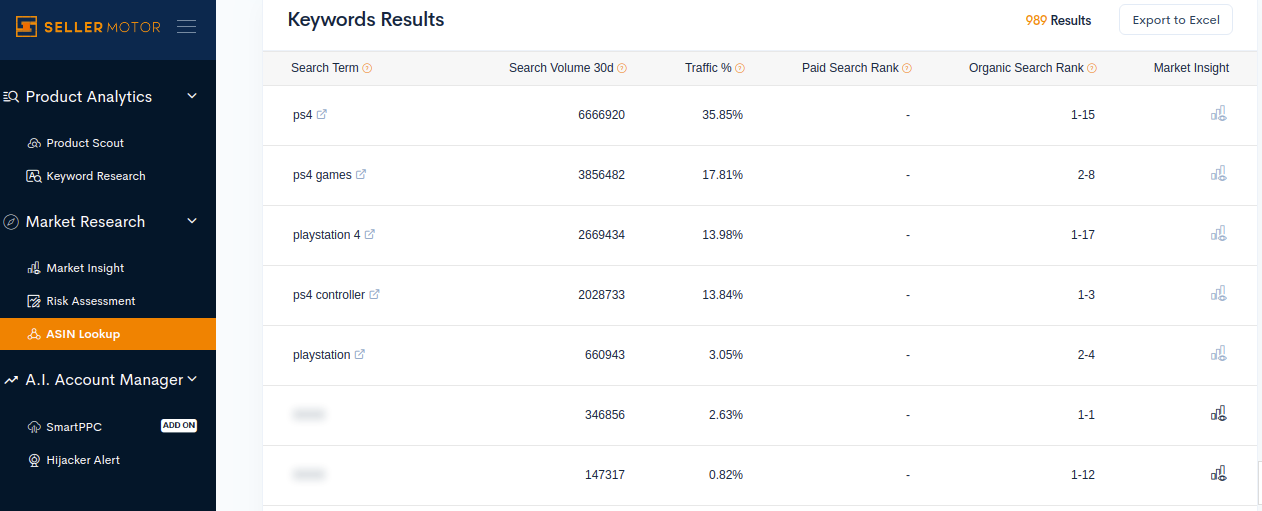 From these results, you can pick better-performing keywords that you can further utilize in your own products' Amazon PPC campaigns.

The Bottom Line
Hopefully, this post will help you understand the concept of ASIN number and reverse ASIN lookup. Now that you know how ASIN works and how to use it, give it a try to list-down top-performing keywords and use them to build powerful Amazon PPC campaigns for your products.
So, if you're really serious about Amazon selling and want to become a successful seller on Amazon, you must start looking for powerful strategies and incorporate them into your Amazon business to make the most out of them.
When we talk about powerful tactics, ASIN lookup is one of them. To achieve your business objectives, start using an ASIN Lookup tool. To know more about this tool, click here and get started today!