Importing products from China and selling them online on the world's leading e-commerce platform, i.e., Amazon, can be the most profitable business. After all, China has designated itself as a global manufacturing hub. According to reports, in 2017, China exported $430.3 billion worth of products to the United States alone.
While deciding on how to source products from China to sell on Amazon, there are several crucial factors you need to consider. From so many elements, one that no Amazon seller can afford to ignore is - finding a reliable China supplier.
Finding reliable manufacturers has been a major issue for online sellers for years, but no worries, we recently launched a new feature, i.e., SellerMotor Manufacturer Heat Map to help you out.
But before we discuss this feature in detail and find out how it can help you in choosing the right manufacturer, you must have an effective strategy to import high-quality goods. So, let's begin with this.
Importing Products from China to Sell on Amazon
A wide range of products on Amazon are from China. Online marketplaces like Alibaba have made it easy for these goods to be accessible to different traders regardless of their business type and size. Even smaller businesses can get access to these inexpensive products.
No matter whether you're an amateur entrepreneur or an expert eCommerce enthusiast, you must have the right strategy in your hands to import quality products. Here are a few necessary steps you need to consider on how to source from China: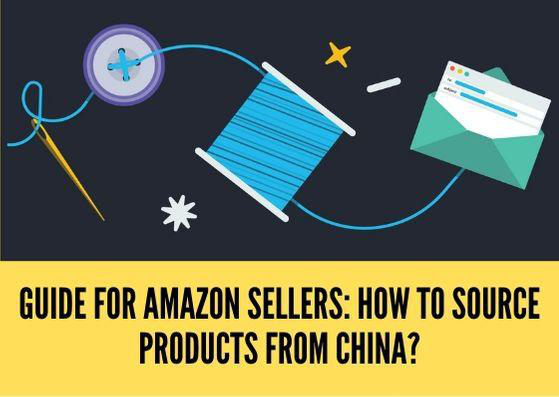 1. Research the Target Market Properly
Online research is one of the most crucial steps to earn money by selling Chinese products on Amazon. In this competitive industry, most entrepreneurs or companies are selling goods that compete with each other, which means you cannot afford to ignore this step at any cost. Thus before placing your order, you need to determine what your target market actually wants. To do so, you can use Amazon to find out the top 1,000 goods in any category. If the product you're planning to sell is not available on this list, then you should switch to another product option.
To make a living from your Amazon business, check out Amazon's top products category, and choose the product that you know about or can add a personal touch to. Once you find the right product as per your market needs, move to the next step.
2. Choose the Right Manufacturer
Once you finalize the type of product you want to sell, the next thing is – how to find suppliers in China. There are thousands of product suppliers in China that make it a little daunting to pick the right one. The easiest and cost-effective way to find a trustable supplier in China is – search on the internet. There are plenty of tools available on the internet that can help you select the right supplier, and from them, one trustworthy name is our SellerMotor Manufacturer Heat Map.
3. Place Your Order for a Sample to Analyze Quality
After you make your decision on product type and Amazon supplier, ordering a sample from that specific manufacturer is the next step. This sample will help you in analyzing the product quality before investing in a bulk amount. Though it is a crucial step in the process of running a thriving business, you need to be aware of the fact that the supplier may send out a high-quality sample than the original product.
4. Build Your Product Listing
When you make the supply chain interaction with a Chinese firm, you're close enough to be in the Amazon business. Now, the final step you need to take is – build your product listing and link it to a buy-now button. To make the product listing, you need to follow the following steps:
● Take quality pictures of your products from different angles
● Create product descriptions (list the features along with the benefits of the products)
Once your list is ready, post it on Amazon for sale. The more people will see your products, the more chances you will have to sell your goods.
These are some of the crucial steps that you need to follow to source products from China effectively. Besides, remember that the success of every business depends on its product quality. Thus, being an Amazon seller, it's your responsibility to make sure that you're offering high-quality goods to your customers. To do so, you need to select the right product manufacturer in China.
Find the Right Amazon Supplier like a Pro
As mentioned above, when it comes to finding the right Amazon supplier, you can take help from SellerMotor Manufacturer Heat Map. This feature provides you with an extensive list of China suppliers, along with their ratings, sales, price range, reviews, and other details. All you need to do is – simply put the keyword in the search tab and hit the "Search" button. For instance, if you enter the keyword 'iPhone case,' you will get the result, as shown in the screen-shot below.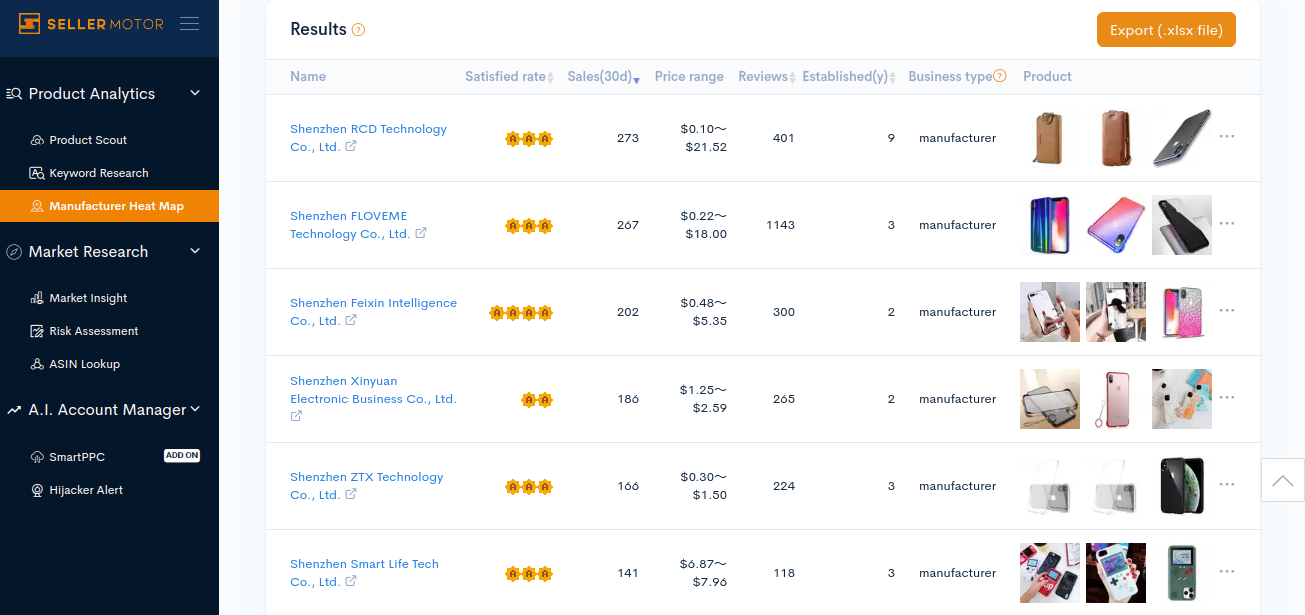 Moreover, this is how SellerMotor Manufacturer Heat Map will help you in finding the right Amazon supplier. Let's take a look:
● Log in into the tool
The first step is to sign in to your account if you have one on SellerMotor. If you don't have an account, first create one. Click here to create your account.
● Get a list of potential Amazon suppliers
Once you log in successfully, go here. Now, enter a specific keyword related to your niche and click on the 'Search' tab. After this, you will be delivered with a comprehensive list of top manufacturers and suppliers to your targeted niche within no time, saving you from going through thousands of distributors individually.
● Pick the Best Sourcing Option
Here, you will receive complete information about distributors including their orders, ratings, reviews, product price range, and other features. This list enables you to compare different distributions to choose the best supplier.
Once you find a suitable supplier, place your order and wait for the products to arrive at your address. All in all, this feature allows you to discover the right supplier as per your business requirement in no time, keeping you ahead of your opponents in the industry.
Conclusion
There are a lot of moving factors you need to consider when planning on how to source products from China. Once you understand the importing process, you can take your Amazon business off the ground smoothly with precision and confidence.
Hopefully, this post has given you an overview of how to source from China and how to choose the right manufacturer to run an Amazon business. Skipping any of the steps mentioned above may lead you to lose both your time and money. Therefore, make sure to implement every step wisely from choosing an excellent product to picking the right China supplier to deliver quality products, etc.and make your online business success.