Selling on Amazon FBA means you're letting the Amazon team pick, pack, and ship your products to your customers. It saves your money, time, and makes sure that you're getting extra help regularly to run your business successfully on Amazon as a seller.
Being an Amazon seller, you need to use every aspect to get over your opponents – and Google Chrome is a secret weapon to do so. There are several Amazon chrome extensions on the market that can give you a proper insight and tools to perform better than your competitors and improve your business efficiency.
Finding the right Amazon chrome extension can be a significant issue as there are many extensions to choose from. To make your decision simpler, we have launched a new feature, i.e., SellerMotor Chrome Extension.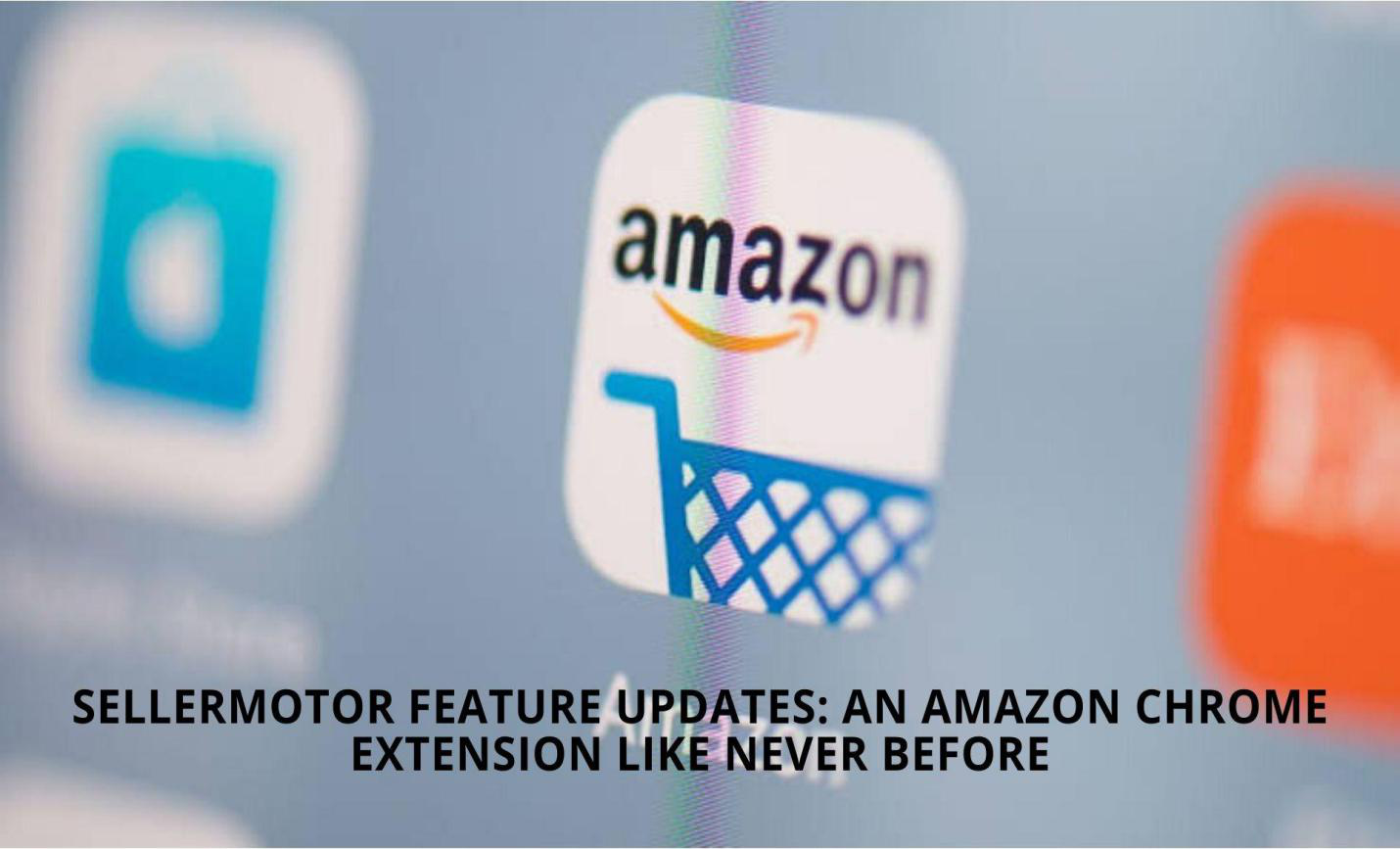 In this post, you will come to know about SellerMotor Chrome Extension in detail that how it can assist you in launching, running, and boosting your Amazon FBA business. But before we go into the depth, let's start with the basics.
What is an Amazon Chrome Extension?
An Amazon Chrome Extension is a plugin for your web browser. While browsing Amazon, you can obtain a lot of information on product listings or category lists. The purpose of many chrome extensions is to make your job easier without leaving your web browser.
With the help of the chrome extension, you can get various benefits. The primary function of an extension is to:
● Save your time and money
● Uncover hidden keywords of competitors
● Improve product research
● Quick product sourcing
● Increase your business sales
● Rank higher on Amazon
With the right Amazon extension, you can speed up your product research, get their ASIN number immediately, analyze your FBA business profits, and more.
What is the Role of an Amazon Chrome Extension?
As mentioned above, a chrome extension can help Amazon sellers with FBA selling. It can help you:
● List the best performing keywords in your product listing
● Identify profitable items on Amazon
● Find out how your Amazon FBA opponents are performing
● Uncover different opportunities to improve your product listings and more
A Reliable Amazon Chrome Extension – SellerMotor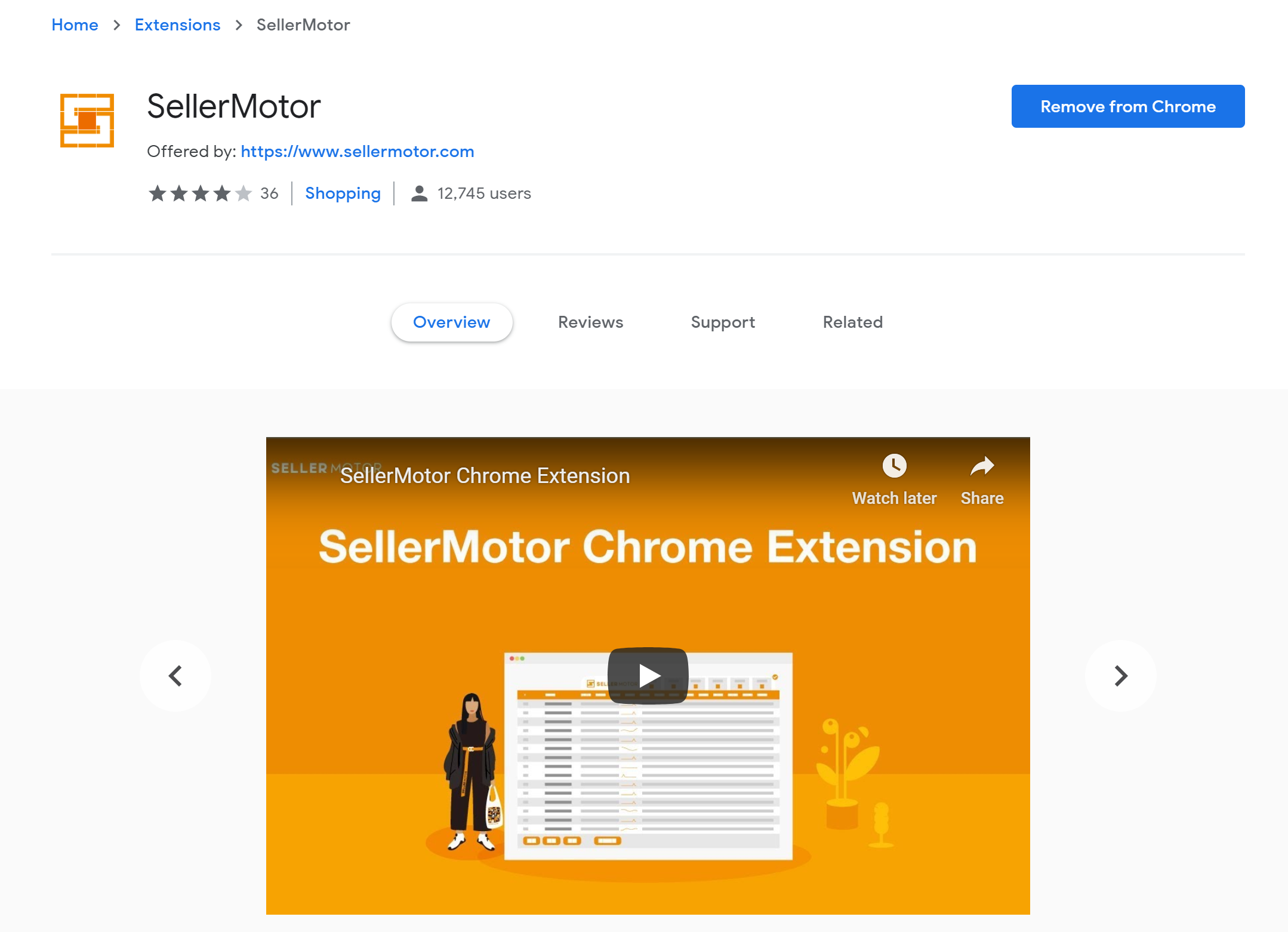 As a seller on Amazon, you need to determine how well your product niche can perform. SellerMotor can help you in finding how productive and beneficial your product niche is.
Basically, SellerMotor Chrome Extension allows you to go through extensive product listings of Amazon to uncover the most profitable products and achieve a steady flow of income from your online business. It offers you a sale estimate of every item on a specific page through a spreadsheet.
Besides, the SellerMotor Chrome Extension makes searching and validating Amazon product ideas straightforward and quick. The tool helps new as well as established Amazon sellers in getting all of the insights that are crucial to run their business, such as:
Product search and sales trend

FBA fees

FBA profit

Estimated sales and revenue

Product reviews

Review ratio and more
You may say it is a real-time product fact-checker, enabling you to operate your business on Amazon with the data that you can trust and ensure that your next item launch is not your last. Use this tool to browse Amazon, list down products of your interest, and follow the right track to become a successful seller.
Other Highlights of SellerMotor Extension
Get real-time product data

Instant product research without leaving Amazon page

Make data-driven business decisions

Calculate rank, reviews, search trend, and star ratings of your competitors

Provides every possible insight you require before entering a market

Know FBA profit margin beforehand
Moreover, the team of SellerMotor takes pride in our innovations, including:
Accurate Estimate of Sales: Sales estimate with the latest market & product data and proprietary estimation model.

Fixed Historical Data Tracker: Detailed historical rank, rating, price, and reviews included in product details pages.

FBA Calculator: Incorporated FBA profit calculator and pricing reference tool providing you with a head start with the most favorable pricing.

Integrated Search Trend: Search trend index depending on keywords of interest & its derivatives on Google and Amazon.
How to Use SellerMotor Chrome Extension
There are several steps you need to follow to use SellerMotor Chrome Extension, including:
Step 1. Sign In to SellerMotor
To use the chrome extension feature of SellerMotor, first, you need to have an account on SellerMotor. Simply sign in if you already have one to make your job a little simpler. On the other hand, if you don't have one, click here to get registered.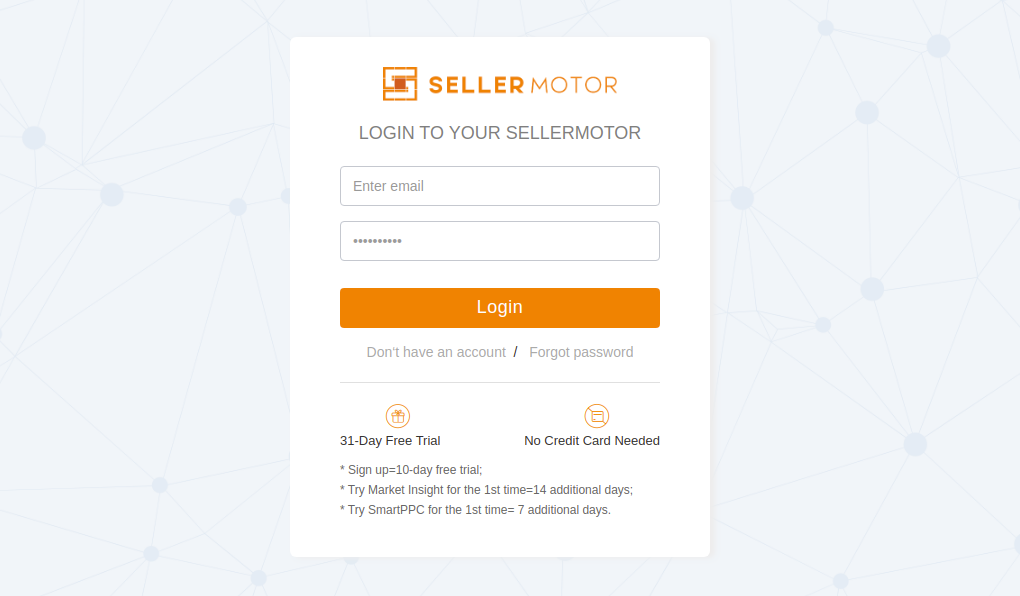 Step 2: Search for the Desired Product
Once you login to SellerMotor Chrome Extension successfully, the next step is to search for a specific product to know its details.
For instance, if you search for "pet supplies," you will be provided with full details of this category, including BSR, Reviews, Rating, Price, FBA Shipping, and more. You will also get to know the Avg. Price, Avg. Reviews, Avg. Margin, Review Ration, and Search trend for the particular category.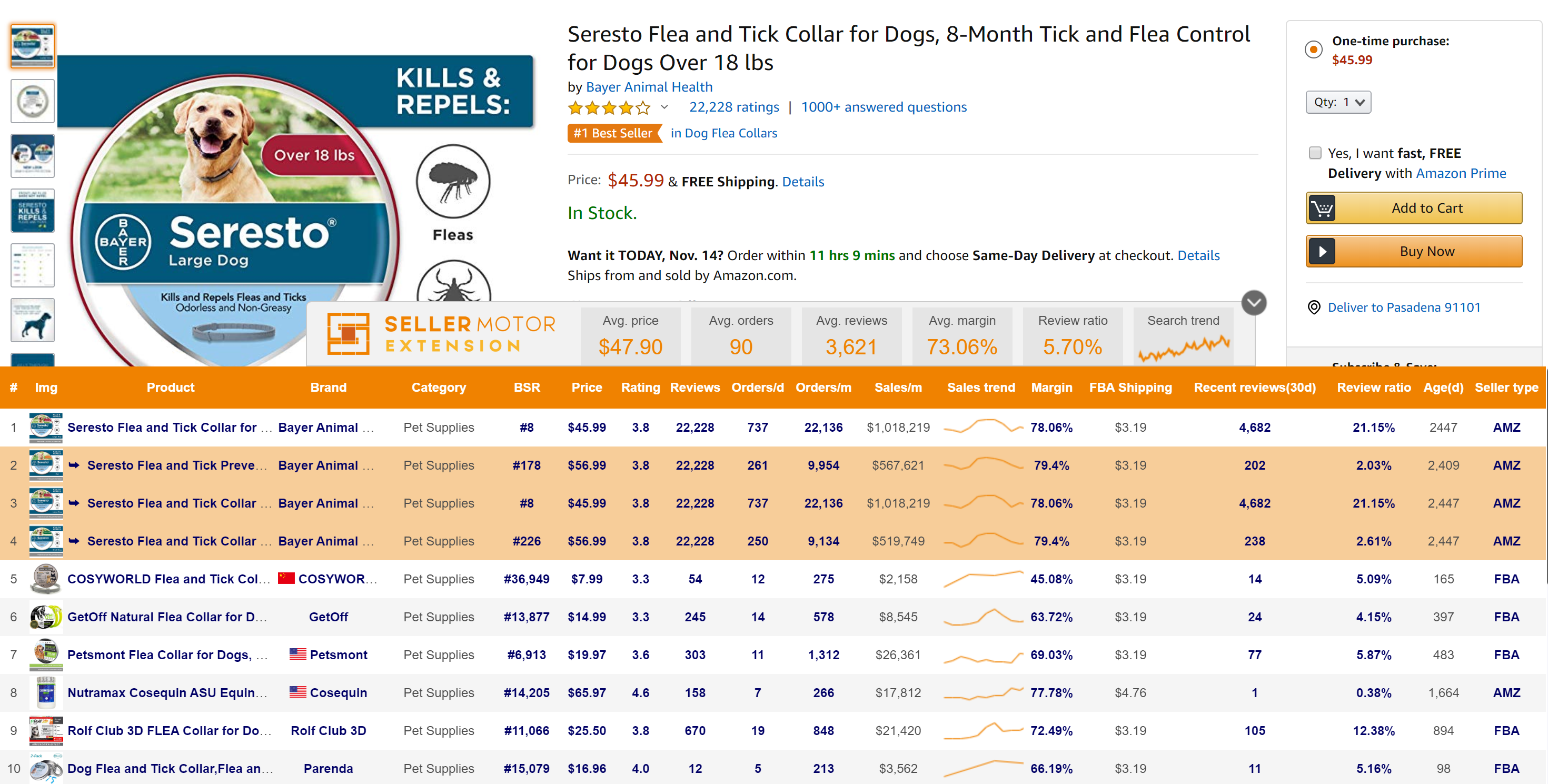 Step 3: Determine the Product Performance
In this step, you will see a graph on your screen. This graph will help you in understanding different key factors, such as sales trends, stock history, BSR, FBA profit, and others. You may click on each key factor to know about it in detail.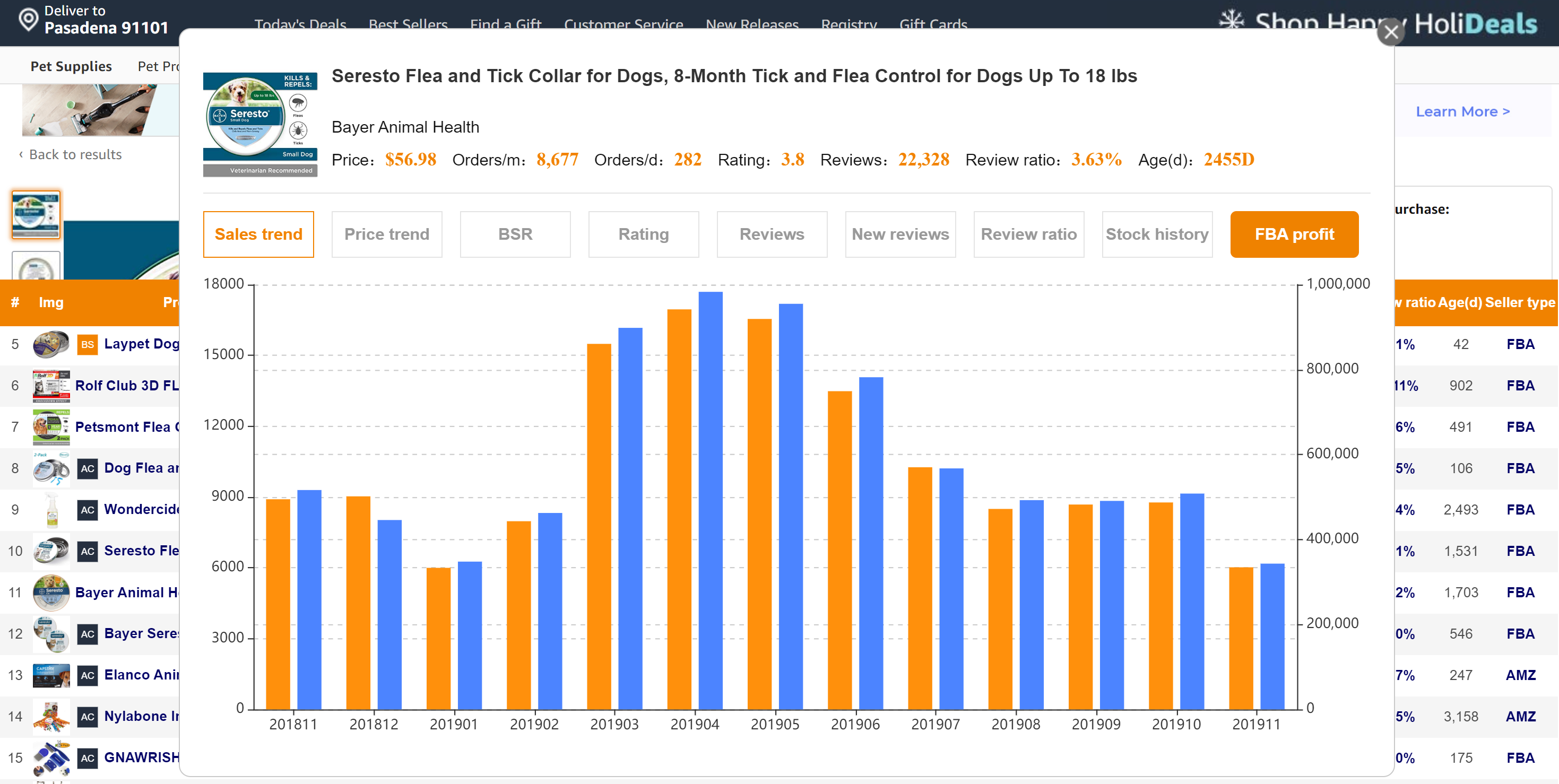 These details will help you in searching and validating Amazon product ideas quickly and automatically without leaving Amazon page.
For more precise details on how this feature works or how can you use it in your Amazon FBA business, click here.
Conclusion
There are over 2.5 million sellers on Amazon who are actively selling on the marketplace, and all of them are using every possible technique to make their business successful. As an Amazon seller, you must try to incorporate a unique strategy to make your business stand out from your competitors. This is where Amazon chrome extension comes into play.
Amazon chrome extension is taken to the next level with SellerMotor and its unique features. This tool offers you an extra edge to perform better and get the most out of your investment and efforts.
Anyway, hopefully, this post about chrome extensions for FBA sellers will help you in some way. Whatever your experience is, feel free to leave a comment below.