All Amazon sellers have to liquidate their inventory at some point or the other, and it's a part of operating an online business. When sellers run into excess inventory or overstock, it can bring them to a standstill as they don't know how to handle this issue. The worst thing is that Amazon starts charging you storage fees for these slow-selling products.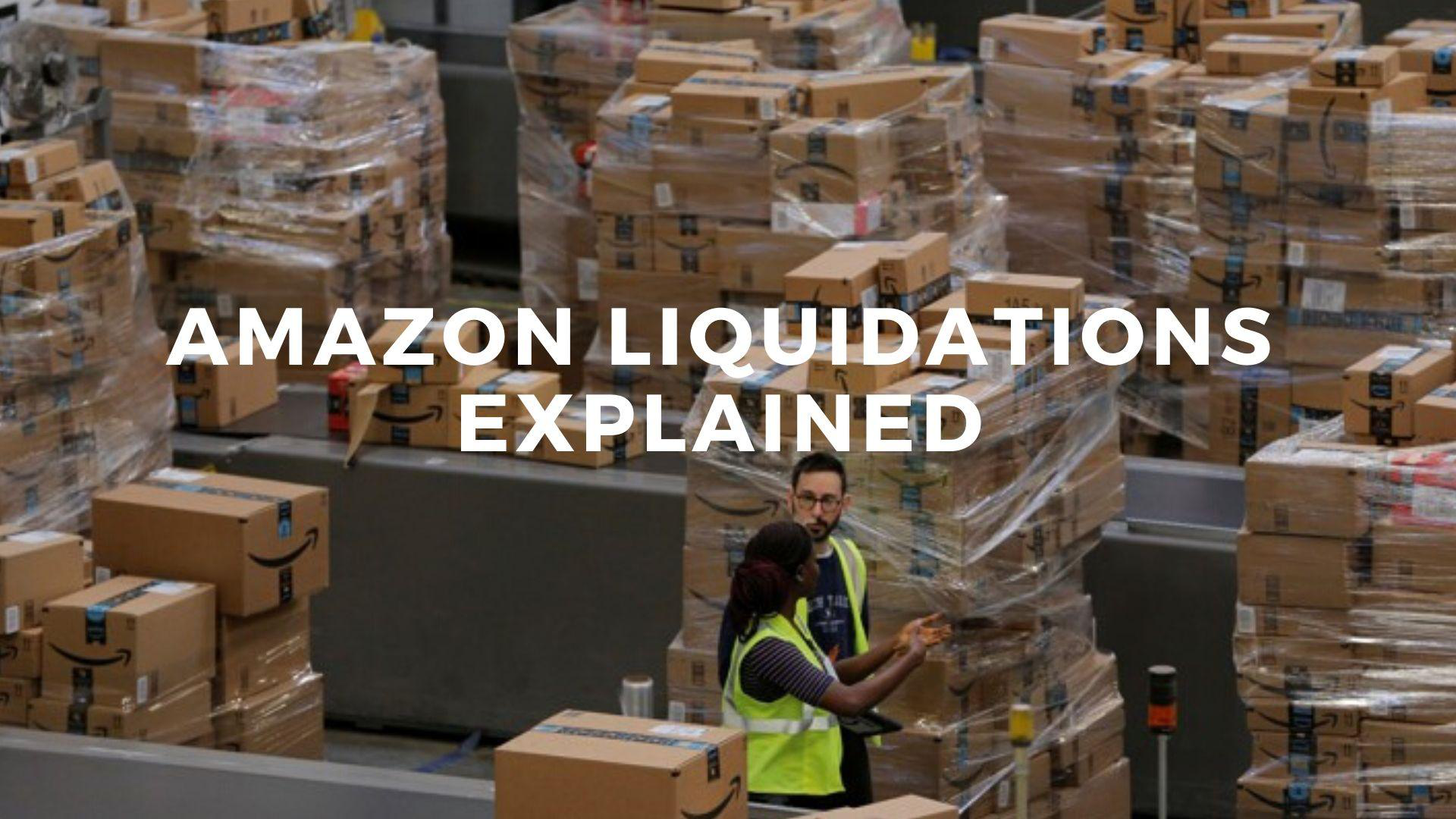 At this point, one thing that all sellers want is – get rid of their excess inventory as soon as possible. This is where Amazon Liquidations come into play. If you have come to the point where you need to liquidate inventory, then you've landed at the right place. In this post, you will come to know how to remove the stock of Amazon step-by-step. So let's take a closer look.
How to Liquidate Amazon Inventory?
When it comes to liquidating inventory on Amazon, there is no one-size-fits-all solution. This is because the reason for liquidating can vary from one seller to another. There can be several reasons behind Amazon liquidation, such as:
● You may be overstocked for the holiday shopping season
● Your item is slow-selling, and you need to free up some space and capital
● Or you may want to switch to a new product or business venture
No matter, what's your reason, there are many liquidation solutions. You can remain profitable if you know your reason and how to pick the right liquidation solution. Here are some points you need to consider while liquidating FBA inventory:
● From the beginning, keep a close eye on your Amazon inventory to understand how your stock level fluctuates with time.
● Determine dead inventory, seasonal (long-tail) inventory, or potential overstock, and have an out in place for every scenario.
● Liquidating inventory doesn't always mean a loss; the best solution can help you stay profitable.
● Amazon charges you for long-term storage, so they will never ask you to move dead stock.
● The right clearance plan depends on the amount of inventory you want to remove and the money you are ready to lose.
● Set your goal to make back the money you've invested, which means no loss and no profit at all.
Top Solutions to Liquidate Your Amazon FBA Inventory

1) Drop Your Rates
Giving huge discounts on your products is one of the most obvious ways to clean out your stock. You can reduce the rates of your products and can optimize the pricing directly in the Seller Central. You can also choose to match the lowest price of your competitors.
2) Raise Your PPC Budget
If you don't want to drop your price, the next solution is to increase your PPC (Pay-Per-Click) budget. Paying more attention to PPC advertising can help you in driving more traffic to your product listings. When it comes to PPC marketing, you have several advertising options to pick from, including traditional keyword-targeted PPC campaigns, Headline Search Ads, or Sponsored Products. You may go with any of them based on your needs and budget.
3) Sell on Other Deal Platforms
If your products are not selling on Amazon, that does not mean you can not sell them on other platforms. You still have the option to shift your inventory to other deal websites, such as Shopify, Groupon, or eBay. By moving your stock to these platforms, you could still have a chance to make profits.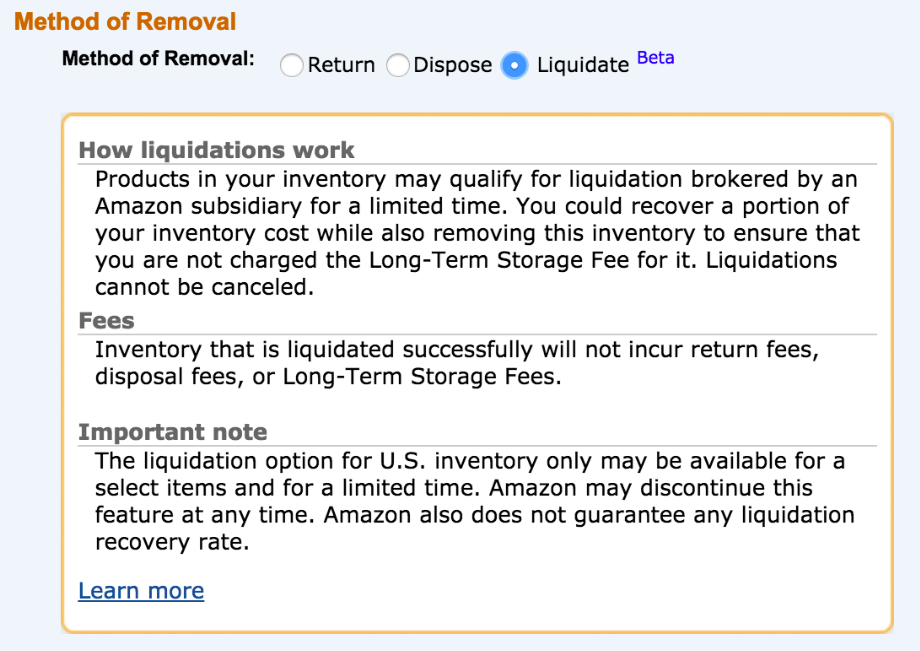 Amazon Liquidation Program is a straightforward way to remove your FBA inventory. This program allows you to liquidate inventory in Amazon US fulfillment centers using an Amazon subsidiary or partner. By using this solution, you can recover a small portion of your total inventory cost. The program enables you to get the highest offer for your liquidated Amazon inventory.
In general, liquidated stock sells for 10% of the actual selling price. From this, you get the 90% amount, whereas the rest 10% goes to the AMZ subsidiary that brokered the sale. For instance, if the actual price of a product is $35, it will sell for $3.50. From this, you will receive $3.25 and $0.25 will go to the Amazon subsidiary.
5) Destroy Your Inventory
If you think the options mentioned above are not worth your efforts and can hurt your business in the long run, the best thing is to send your inventory to its final location – The Dumpster. In such a case, there can be nothing better than choosing to have the stock destroyed by Amazon. You can submit your request for terminating your remaining Amazon products in Seller Central through the "Inventory Management Options" menu.
6) Donate to Charity
Donation is the best alternative to other liquidating solutions; it can benefit others, if not yourself. There are a lot of methods to go about donating your stock to charity, based on your product type. Besides, keep in mind that you are also liable for removal fees with this option.
Conclusion
It is common for any eCommerce business to run into a situation where its products are underperforming, and the sellers end up sitting on overstock. When this situation occurs in your online FBA business, sometimes, the only solution is – Amazon liquidations.
Most sellers avoid inventory liquidation because they don't want to face loss. But, they are not aware of the fact that keeping the inventory can make them lose even more. Just ensure to take your time to choose the best solution to remove the inventory and implement it at the right time.
Hopefully, this post will provide you with the information you need to liquidate your Amazon FBA inventory. Moreover, if you have any doubts or have some other ideas related to Amazon inventory liquidation, feel free to share your thoughts in the comment section.