Being at the top at Amazon Sales Rank means more sales, more traffic, and even a very good reputation. Generally speaking, earning money on any Amazon marketplace depends on this ranking scale.
But, what is Amazon sales rank? How to rank high on the Amazon sales rank chart? What factors will determine the Best Sellers Rank (BSR) of a product?
In this article, we will answer these questions by listing 6 facts about Amazon Sales Rank that is necessary for every FBA seller to know.

What is Amazon Sales Rank?
An Amazon Sales Rank defines the popularity of any item in a specific category. This ranking system is available for all the products that are available for sale. It tells you how good your product is and what are customers reviews about it. At Amazon, the products are assigned with a specific sales ranking number. Having a smaller ranking number means, your product is ruling the world of Good Amazon Ranking Scale. In certain words, sales ranking means the time period in which the last item is sold. Having a small-time interval between two sales means you are ranking as a good Amazon Seller.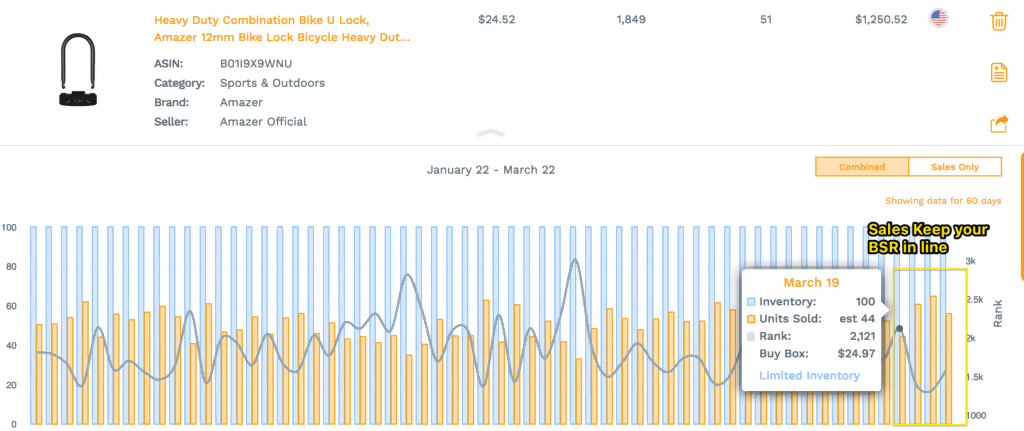 Sellers can learn about this ranking system with the help of Amazon Sale Rank chart. The chart is divided into different categories with their appropriate sale rank. The ranks are then subdivided into 1% to 10% of every category. Having the lowest sale ranking number means, a specific item is generally receiving more sales on Amazon. E-commerce sellers find more profit opportunities with having a large number of sales or the lowest number on the Amazon Sale Ranking Chart. Various items that frequently ranked in the category of 1% selling items are retailing at fast speed. Items that are listed within the range of 3% are also selling quickly.
What is a Good Amazon Sale Rank?
"Amazon Sale Rank", "Amazon Best Seller Rank", "BSR or Best Seller Ranking on Amazon".
Have you ever heard about them? All these terms mean the same thing: Amazon BSR.
Amazon BSR or good Amazon sale ranking measures the velocity of the sales of any seller in comparison with the products of other sellers. It is the metric that guides about your ranking number in the chart of Amazon sales in comparison with your competitors.

There are some facts about Amazon Best Sales Rank that you may need to know before entering Amazon business.
1. A lower number is better than a large one. Having a long ranking number means that the Amazon Ranking Number next to your name is not in millions. And your products are selling slowly.
2. You can increase the selling rate of your products with different tactics like optimizing Amazon SEO of your listing and Amazon PPC. Keep reading and find more tactics.
6 Facts to Help You Fight Effectively in the Race of BSR.
1. Increase your sales velocity
If you have launched a new product and hit #1 rank in Amazon's good seller ranking chart for your keyword density, your next step is to focus on every day's sale of your product. An increase in your every day's sale is known as Sales Velocity. This is the first tactic that can dramatically increase your selling rank in the chart.
2. Good Amazon sale ranking requires sales
Newbie sellers always get disappointed when they don't get any rank in Amazon's good sales chart after launching their products. But Amazon sales rank is based on historical sales data.
To achieve a high rank in BSR's chart, your product needs extra sale in the initial days of its launching --- make sure you are offering special deals to your customers.
But if you are failed to maintain the selling momentum of your product, the BSR chart will drop you. This is like exams where you can give your best, and then the teacher gives you rank according to your ability and performance level. The best way of attaining the badge of Best Seller on Amazon is to maintain consistent sale.
3. Product research greatly influences your BSR ranking rate
Most sellers don't know this fact, but indeed, the product's research and more time a customer spends in searching the best product can also increase your level on the chart of BSR.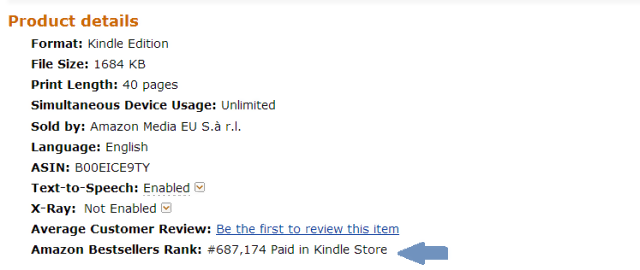 Let's take seasonality of product for example. If you want your products rank top all year round at the Amazon sales rank chart, don't start with products whose sales rise/drop sharply as seasonal weather changes.
To make better product decisions, you need to improve your product searching ability on Amazon. For that to happen, you can check the sales trend estimator on SellerMotor Market Insight.
4. BSR is not unit dependent
BSR depends on the orders instead of units. For example, a product with 30 units has the same value as compared to a product with 1 unit. So, don't think that having a higher unit number can boost your ranking in Amazon Sale Rank.
5. The decrease in sale won't decrease the BSR speedily
It's true that every seller has to face low selling rates. If you are losing the 50% of your sale in one day, it doesn't mean you are also losing your rank in BSR with the same speed. The sales rank also decreases but not drastically. So don't be panic when your sales are dropping, you are still able to get back on track.
6. BSR gets updated in a short time
Amazon Sale Rank Chart gets update after every 2 to 3 hours. Whenever a payment of any product has been made by a customer, Amazon updates the BSR chart. So, it is necessary to check the BSR time to time to prevent bouncing in BSR.
Conclusion
As earlier stated, being at the top of this ranking scale, means more traffic, more sales, and more popularity. But it is important to note that before you start aiming for a spot at the top of the rank, you have to focus on building your brand first and having consistent sales.
Meticulously follow the facts listed and see yourself climbing to the top of the rank in no time.