Amazon, much like Google has an independent search engine that ensures customers on their platform get the most relevant product suggestions after a search query.
Amazon has over 310 million active customers and sells more than 3 billion products across its marketplaces. These statistics are an indication of the fierce competition on Amazon.
To increase the visibility of your Amazon listings, you must take time to carry out proper Amazon listing optimization for your products.
This comprehensive guide is going to cover:
· What Amazon listing optimization is
· Why it is important for your store
· And most importantly, the step by step guide on how can you carry out proper listing optimization for your products to enhance sales and ensure the success of your store.
What is

Amazon Listing Optimization?
Just like search engine optimization (SEO), listing optimization ensures that your products will be visible to potential customers on Amazon.
Almost all categories on Amazon have millions of products listed. Having a great product doesn't ensure sales if it is not visible to as many people as possible.
Optimizing a listing is the process that ensures your products rank organically on an Amazon search query thereby getting your products before as many eyeballs as possible.
When a visitor conducts a search on Amazon, the A9 algorithm under the hood ensures only products that are relevant to the search query are displayed.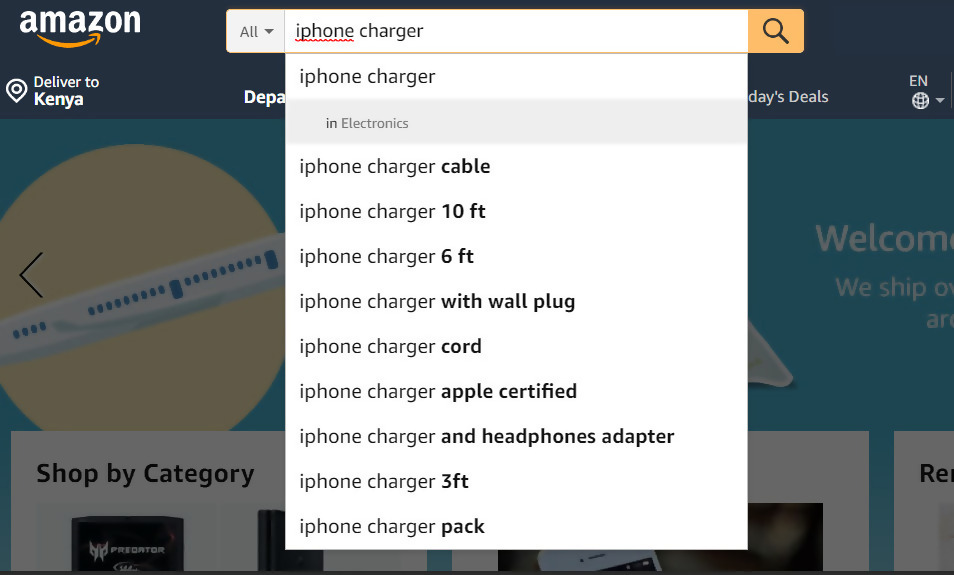 The auto-suggestion shown makes it easy for the customer to navigate the listings. A click on any of the keywords suggested will list products that have been properly optimized for those keywords.
The A9 algorithm is highly dependent on relevancy, therefore, it scans the entire market place for listings that are relevant to what the searcher wants.
There are several proven techniques you can use to beat the Amazon algorithm and have your products ranking highly for organic searches.
But, before the step by step guide on how you can do that, first, check the benefits of listing optimization as discussed below
Why is Amazon Listing Optimization Important for your store?
1. Over 60% of the clicks go to the first three listings on a page – when your product appears on the first page, people automatically know it is relevant and being seen and preferred by many others.
Even when you do not have so many reviews, being on the first page will greatly increase your chances of selling.
2. Over 70% of Amazon users do not go past the first page of product listing results – clearly, a huge portion of users do not go past the first page. This means the lower you rank the harder it is for you to make a sale even when your product is high quality and well-priced.
When you rank on the first page, price doesn't become a huge determining factor on whether you will sell or not. Amazon users understand that products on the marketplace are from different sources and therefore have different quality.
Look at these two products for instance. The first product is a single iPhone charger selling at $12.99 while the second one is a 3 pack of 6ft iPhone chargers which sells at $15.99. Clearly, the second pack is more affordable and we would expect it to sell more.
But, when you look at the reviews you get a different story altogether. The first product has 13,751 reviews with 4.1 stars rating while the value pack has only 182 reviews with 4.0 stars rating.
The first product is likely to continue selling more and also appeared to have been bought and used by more people before. This will appeal to others to continue purchasing the product.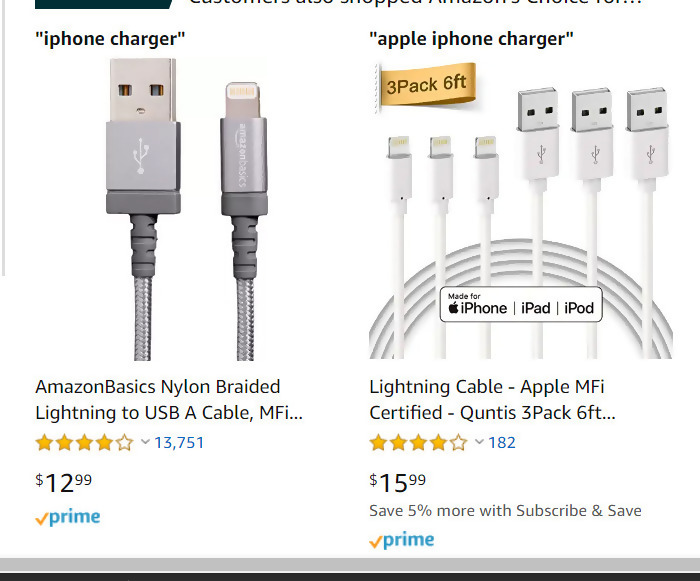 3. Over 30% of shoppers click on the first featured product on the results page – the higher your product ranks organically the more clicks it receives and ultimately the more it will sell.
4. Amazon receives over 44% direct product searches for customers that intend to make a purchase – recent research by BloomReach indicates that Amazon.com is receiving more product searches than Google and retailer websites.
Search queries on Amazon are from customers that have intentions to purchase unlike for Google searches where most of the searchers are looking for inspiration. With this in mind, therefore, the higher your Amazon listing ranks organically, the more you are likely to sell.
Also, 74% of consumers go directly to Amazon when they are ready to purchase a product, according to Forbes.com.
With this high customer intent to purchase and the increased visibility, Amazon listing optimization will without a doubt ensure the success of your store.
Step by Step Guide to Amazon Listing Optimization
1. Research keywords to use for your product
Do not jump to immediately writing product descriptions and titles for your products without keywords. Remember keywords are the key to ensuring the relevance of your listing to the search query. The higher the correlation of the keywords you have used to the search query, the more likely your listing will rank highly.
Keyword research for Amazon is easy. Start by researching the top 3 to 10 competitors with a similar product like yours. You can start by using SelllerMotor ASIN Lookup tool.
Collect the keywords that they are using for their products and make a list of those keywords.
Next, using a tool like SelllerMotor Keyword Research which has a free version, you can get the search volume of the keywords you have populated. This will help you figure out which keywords are worth using in the title and descriptions of your products.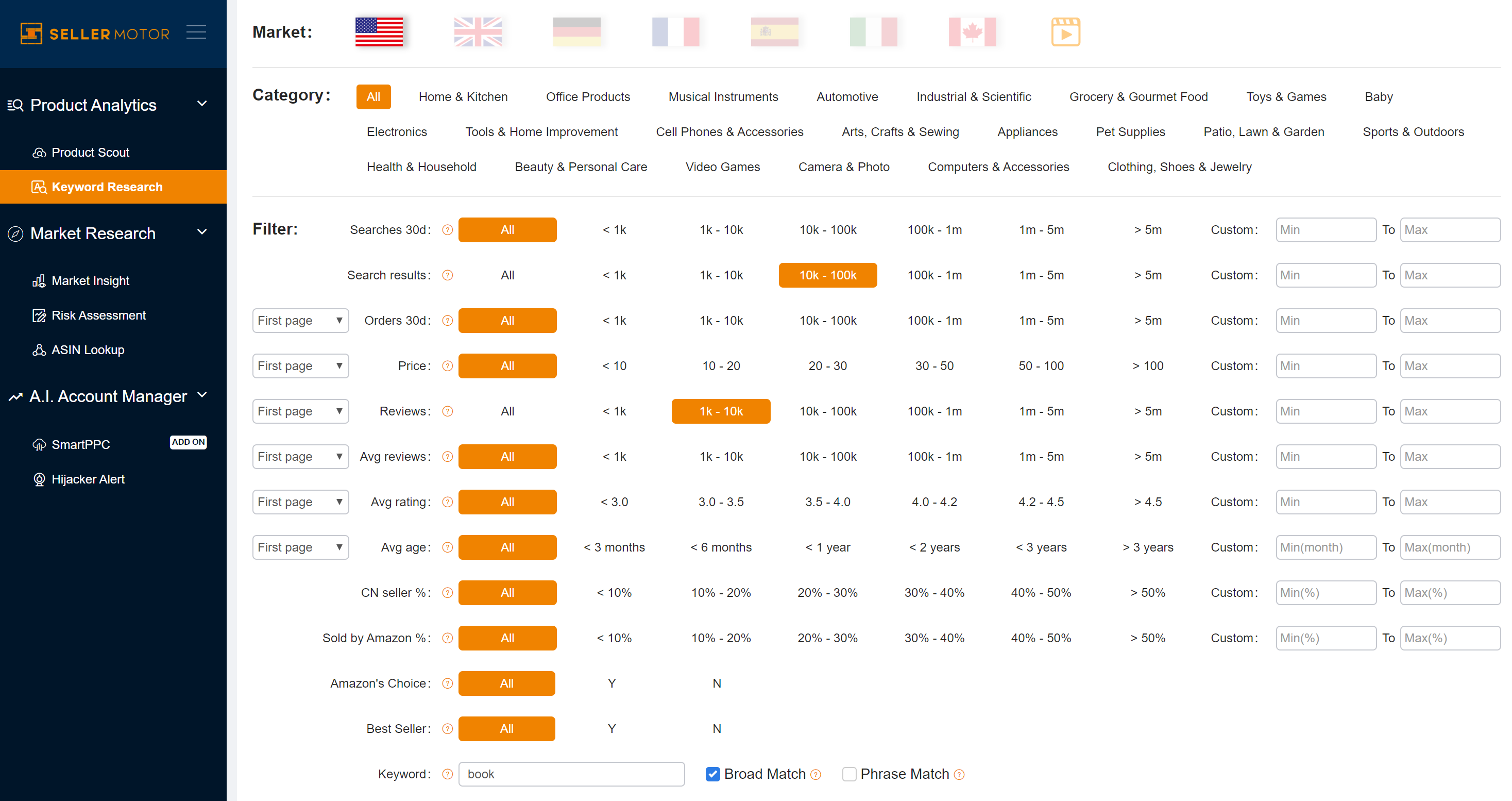 Amazon listing optimization service providers will use advanced tools like SellerMotor Keyword Research for competitor analysis. When you input the keywords the tool will give you a lot of valuable information like estimated sales, product name, reviews and estimated revenue.
After you have the best keywords to use in your title and product copy then it is time to write your titles and descriptions.
2. Use keywords in the title
After you have collected the primary keywords and longtail words that matter for your business, it is time to write your listing. The title should include your primary keyword. For instance, in our case, if you are selling an iPhone charger then your title should include those keywords.
However, those are not the only words your title should have. A title that just says iPhone charger will not appeal to searchers. Instead add something like the unique selling proposition (USP) of your product, brand name, longtail keywords and benefits.
For instance, you could have; 6 ft iPhone Charger /MFi Certified iPhone Charger /Extra Long High-speed connector/Lightning to USB cable.
Do not forget to include keywords that Amazon uses to filter through products if they are relevant for your listing. These include words such as men, women, kids, boys, girls, the size of the product, etc.
3. Use keywords in the product descriptions
You also need to use your primary and longtail keywords in the product descriptions. Your descriptions should not only list the features of your product they should appeal to the emotions of your potential customers by stating the benefits.
Listing for instance that your charger is high speed might not impress your potential customers if they don't know the benefit of that. In the description appeal to them more by stating that your charger can, for instance, allow up to 480mb/s transfer speed making it quick to transfer files between devices.
Write your product descriptions in easy to scan bullet points that will take the customer quickly from one point to the other.
4. Optimize for user intent
As stated earlier, most of the people searching for products on Amazon are ready to purchase. Your listing should, therefore, be optimized with that in mind. However, according to Forbes, consumers visit Amazon in all their phases of the purchase journey.
There are those looking for inspiration, those who are comparing products and those who want to buy. Ensure that your listing appeals to visitors in all the categories. Have clear images of your product, easy to understand descriptions and even amazon product videos. Also, ensure the reviews for your product are displayed.
5. Use Backend keywords
The title and product description are not the only places where keywords are required. Use all the important keywords in the "search terms" in the backend of your store dashboard. You can change these keywords as much as you like if your PPC campaigns are not working.
With an Amazon listing optimization service tool like SellerMotor, you can easily monitor the success of your campaigns and optimize accordingly until you get the winning formula.
Ensure that you use a wide mix of keywords in the backend to meet different search queries.
6. Optimize your images
Use high-quality images that users can zoom in to see the fine details of your product. The recommended size by Amazon is 2560 pixels wide.
Images with a white background are more appealing because they bring focus to your product. You can also add images that show how to use the product or illustrate important features and benefits of your products over the competitors. Remember your USP is what sets you apart from your competition.
7. Encourage buyers to leave reviews
90% of the respondents to a survey conducted by Dimensional Research indicate that positive reviews influenced their purchase decision. Further, over 90% of customers on Amazon will not purchase a product with less than 3 start rating.
Reviews really matter on Amazon marketplace which is why you should encourage your buyers to leave you a review after a purchase. The review tells potential customers more about your product which eventually gets you more sales (that is if you are selling a quality product and getting great reviews for it).
Avoid underhanded techniques like getting reviews from other sources other than your customers.
8. Provide extra information and build trust
Ensure that you provide all the information that you think is useful in helping the customer make a purchase decision. When you provide lots of information customers trust you more because they do not see bias.
You can also build trust by providing information about refund policies and how you relate with other big brands and corporations. Do not forget to refer to the positive reviews that your product has gotten from verified customers and use Amazon product videos to showcase your product.
With these tips on Amazon listing optimization and with the right tools like SellerMotor then your store is set up for success.